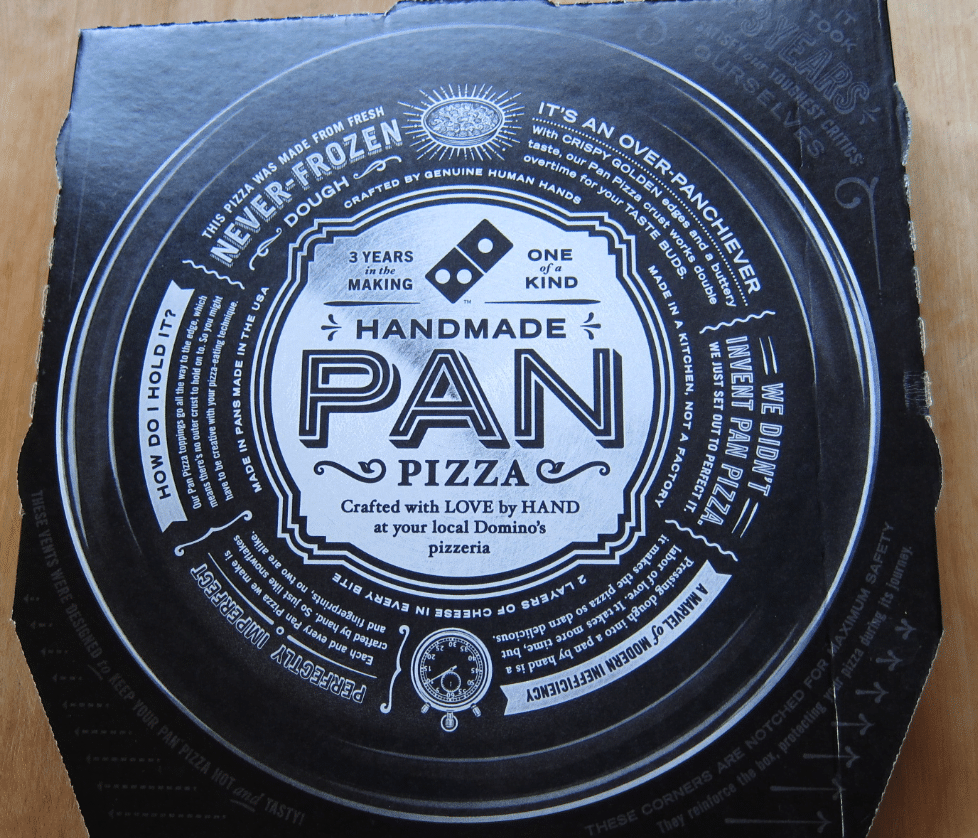 In 2012, Domino's introduced handmade pan pizza, which quickly gained popularity. This beloved menu item of Pan Pizza from Domino's features a double layer of cheese, an abundance of toppings that extend to the edge of the crust, and a crispy bottom with a rich buttery flavor. Many have requested a review of Domino's pan pizza, and now I am here to deliver it – Pan Pizza Domino, complete review.
The pan pizza from Domino's is thicker than their hand-tossed crust and has a tapered edge, resembling a flying saucer. Unlike Pizza Hut's version, the crust doesn't have the same bubbly, fried, oily texture but instead features a crispy layer over the crumb. There is a distinct crunchiness along the very edge of the pizza. As with many pizzas and breads, the crust does become softer as it cools down. While there isn't an overwhelming amount of flavor in just the crust alone, there is a subtle hint of butteriness present.
I purchased a 12″ Pan Pizza from Domino's with bacon and sausage from the Domino's in my area for $7.99 using an online coupon (regularly priced at $10.99 for a 1-topping pan pizza). Currently, only medium-sized options are available for the pan pizza, with no large or small alternatives. The pizza is delivered in an attractive black box that has a glossy finish. As with all of Domino's boxes, it features words highlighting the deliciousness of its contents.
The crumb inside Pan Pizza from Domino's had a moist texture with a slight chewiness, reminiscent of mochi or rice flour. Although it has a subtle buttery taste, there is no actual butter used in its preparation. Despite being topped with two layers of cheese, I didn't observe any additional cheese compared to what is usually found on Domino's pizzas.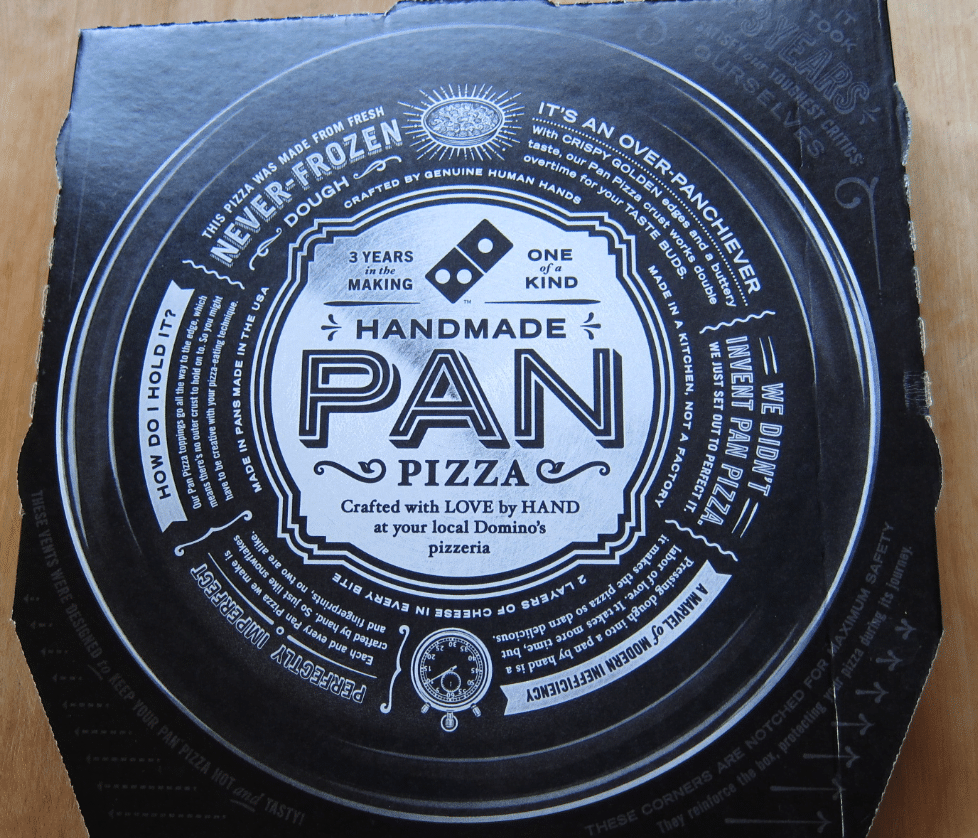 Domino's Bacon stands out as my preferred choice among the various fast food chains. When cooked in the pizza oven, it achieves a delightful crispiness while delivering a flavorful and smoky taste that I consistently relish. It surpasses the small morsels they previously used during my childhood. Although the sausage doesn't boast any exceptional qualities, it remains tender with a decent seasoning hence making Pan Pizza from Domino's even more yummy. The combination of these two ingredients leans towards being slightly salty, causing me to momentarily regret not opting for a meat and vegetable duo, albeit only to a minor extent.
The handmade Pan Pizza from Domino's is a delectable rendition of a deep-dish pizza, featuring twin layers of cheese, a zesty tomato sauce, and a crust that is both buttery and crunchy. The bottom crust has a delightful melt-in-your-mouth quality. However, it is quite substantial in size and weight. Opting for a smaller portion will still leave you feeling satisfied without any difficulty in getting full.
Is Pan Pizza from Domino's Better Option Than The Regular?
As you may already be aware, Domino's offers a diverse selection of pizza choices for customers to order. However, two of the most favored options currently are hand-tossed and pan pizza. Now comes the dilemma: which one should you try first? For dedicated pizza enthusiasts, this decision can prove to be quite challenging. Opt for the hand-tossed pizza if you prefer a more crisp bite with a reduced amount of sauce, cheese, and oil. On the other hand, if your preference leans towards generous amounts of cheese and toppings combined with a less crispy crust, then the pan pizza is an ideal choice for you. I will start out right here by saying that Pan Pizza from Domino's is the hands down best.
Is Pan Pizza from Domino's Better Than Pizza Hut?
It all comes down to personal preferences. Personally, I'm not a big fan of Pizza Hut's pan pizza, so for me, the answer is definitely 'yes'. As I said earlier, I love Pan Pizza from Domino's and that is why I wrote this article on review of Pan Pizza from Domino's! The reason I prefer Domino's Handmade Pan Pizza is because it doesn't have the same greasy feel as Pizza Hut's version and the texture of the crust is more moist. Unlike Pizza Hut's pan pizza which can be dry, Domino's has a nice balance between a soft crumb and a thin layer of crispness. In fact, I find Domino's new pan crust even better than their recently revamped hand-tossed pizza crust. All in all, in my opinion, Domino's Handmade Pan Pizza comes out on top as the superior choice.
What Is Pan Pizza from Domino's?
If you're curious about what exactly constitutes Pan Pizza from Domino's, then you've come to the right place. Domino's introduced its handmade pan pizza to its menu in 2012, and it has been a popular choice ever since. What sets Domino's pan pizza apart from others? The answer lies in the fact that it is made by hand, with each pizza maker being trained to create the dough according to specific instructions.
This level of dedication and professionalism is crucial for any meal, but especially for pizzas. In a market flooded with similar options, Domino's handmade pan pizza stands out due to its unique double layer of cheese and toppings that extend all the way to the edges.
Crust Is One Of The Main Differences
Domino's presents a wide range of pizza options for customers to choose from. Among these choices, hand-tossed and Pan Pizza from Domino's are currently the most popular. Now the question arises: which one should you try first? For true pizza lovers, this decision can be quite difficult. If you enjoy a crunchy bite with less sauce, cheese, and oil, then the hand-tossed pizza is perfect for you. On the other hand, if you prefer loads of cheese and toppings combined with a softer crust, then the pan pizza is an excellent choice.
The Online Ordering Experience – You Can Make Your Own Handmade Pan Pizza
Opting for convenience, I decided to have my pan pizza delivered instead of making it myself. Browsing the Domino's website, I navigated to the "Order Online" section and selected the delivery option. This allowed me the opportunity to customize my own handmade pan pizza.
And that's exactly what I did. Initially, I was informed that Domino's only offers their pan pizza in a medium size (12 inches). Fortunately, this wasn't an issue for me as it was more than sufficient. However, if you're looking to feed a larger group of people, be aware that it may come at a higher cost than anticipated.
Selecting the toppings and options proved to be a simple process; the interface intelligently provides suggestions and notifies when certain items are unavailable. It would have been helpful to receive recommendations for additional toppings, but that may be unnecessary since I am already customizing it according to my preferences.
I opted for pepperoni, black olives, mushrooms on one side, and onions on the other (please withhold judgment as I had an intense craving). The website even allowed me to specify which side the onions and mushrooms should go on; this feature was quite impressive.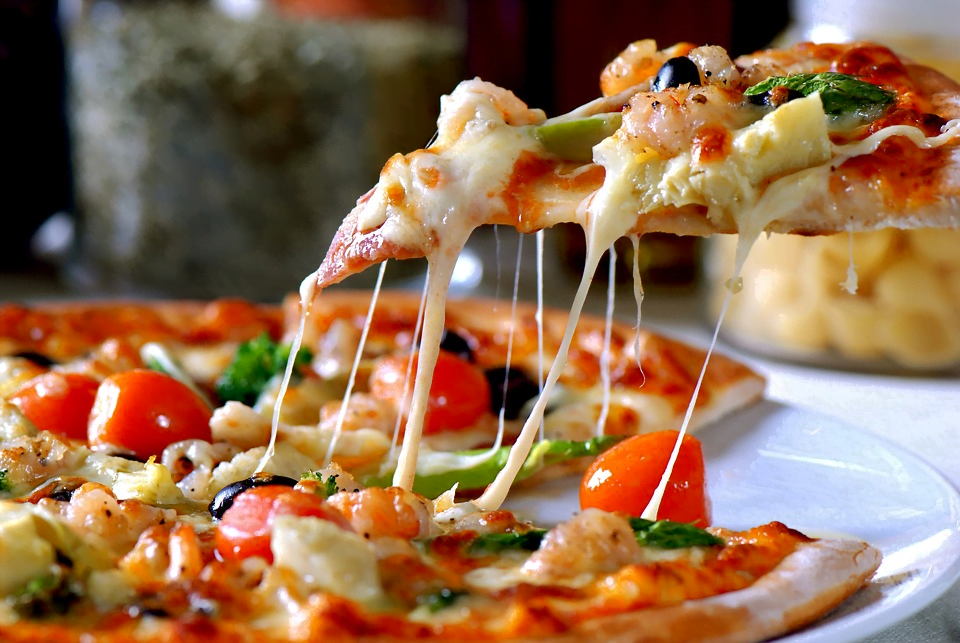 The Base Has Two Layers Of Cheese That You Can Customize
Upon accessing the ordering menu, it becomes apparent that cheese is a non-negotiable option. The interface explicitly states that it cannot be removed, even if one attempts to do so. Consequently, individuals who are lactose-intolerant may not find this feature particularly enjoyable compared to those without such dietary restrictions.
Moreover, it is possible to customize the amount of cheese added to a dish. For instance, one can opt for light cheese on one side and extra on the other. Although the practicality of this option may seem dubious at first glance, it does offer an interesting choice for individuals sharing a meal.
However, it is important to note that the cheese used in these dishes consists of two layers. Therefore, adding extra cheese could potentially lead to unexpected visits to the bathroom (unless you possess an unusually resilient stomach capable of digesting copious amounts of dairy).
You Can Choose One Of Five Base Sauces – I Went With The Classic Tomato Sauce
Once I reached the section dedicated to sauces, I was presented with a selection of five options. Among them, the sauce that particularly caught my attention was their robust and flavorful tomato sauce. What makes it stand out for me is its unique tanginess when you take a bite. This sauce perfectly complements the richness of the cheese by adding a touch of lightness to it, making it my ultimate choice without any hesitation.
For those seeking a different flavor experience, there are alternative options available such as ranch dressing, honey BBQ sauce, garlic parmesan sauce, and Alfredo sauce. Personally, these seemed either too overpowering or creamy for my taste preferences; however, they might be an appealing combination for someone else's palate.
YouTube Video | Review Of Pan Pizza from Domino's
Review Of Pan Pizza from Domino's – Is It Worth Ordering?
Upon lifting the lid of the Domino's pizza box, I was pleasantly taken aback. The crust had a satisfying thickness without being excessively so. The quantity of cheese was ample enough to feed a small community, and I found myself relieved that I hadn't opted for any additional toppings. The meat, mushrooms, and onions had all been baked to perfection – an essential factor that prompted me to write this review in the first place.
The toppings were generously spread all the way to the edges of the pizza, adding an element of excitement to each bite. It was truly gratifying to witness such an even distribution of ingredients; there was no need for anyone at my table – including those who typically discard their crusts – to waste any part of this delightful meal.
The bottom side of the dough boasted a rich caramel color and had been masterfully baked; it achieved that ideal balance between crispy and doughy textures. While slightly buttery in taste, it wasn't until that initial bite that its true magnificence became apparent. The onions provided just enough flavor without overpowering other elements; they contributed a subtle sweetness that complemented both the tanginess of tomato sauce and the richness of the cheese.
Check Out The Nutritional Value Of The Handmade Pan Pizza At Domino's
Since pizza is considered fast food, then you probably want to know its nutritional value, right? Here's a table of all the info you need to know for Domino's pan 12″ pizza.
| | |
| --- | --- |
| Servicing size | 1 slice (63g) |
| Calories | 190 (from Fat – 60) |
| Fat | 7g (Saturated fat – 3.5g) |
| Carbs | 26g (Sugar – 1g) |
| Sodium | 150mg |
| Protein | 5g |
The importance of understanding calorie intake
In today's world, where convenience and fast food dominate our diets, it is crucial to have an understanding of the caloric content of the food we consume. Calories are a unit of energy, and the amount of calories in a food item indicates the amount of energy it provides to our bodies. By understanding the caloric content of our favorite foods, such as pizza, we can make informed decisions about our diet and work towards maintaining a healthy lifestyle.
When it comes to pizza, many of us may underestimate the number of calories we are consuming. It is easy to indulge in a few slices without considering the potential impact on our overall calorie intake. However, by being aware of the caloric truth behind our favorite pizza slice, we can make conscious choices and better manage our dietary goals.
Knowing the caloric content of pizza can also be helpful for those who are looking to lose or maintain weight. By tracking calorie intake and ensuring that it aligns with individual goals, individuals can still enjoy their favorite foods while maintaining a balanced diet.
Understanding calories is not about restricting ourselves, but rather about making informed choices and being mindful of our overall intake. By educating ourselves about the caloric content of our favorite foods, we can maintain a healthy relationship with food and indulge in moderation.
Domino's Handmade Pan Pizza Competes With The Best Pan Pizzas Out There
In general, Domino's handmade pan pizza is one of the most delicious pizzas I have ever had. It rivals Pizza Hut's version, although that ultimately depends on personal preference and mood. Personally, I give the crown to Domino's due to their generous cheese and toppings that cover every inch of the pizza.
Domino's has done an exceptional job in creating this masterpiece, and they proudly stand by their commitment to never using frozen dough. This level of dedication certainly sets them apart from other establishments. However, it is worth noting that many other restaurants also prioritize fresh ingredients. It brings me great satisfaction knowing that Domino's is among those who follow suit on this important aspect as well.
Conclusion:
My favorite dominos pizza so far is pan pizza (no robust sauce) asiago cheese, chicken, and hot sauce. It is worth trying. I have really been impressed with Dominos and their attempt to turn operations around. They have clearly surpassed the Pizza Huts pan style. Really great pizza for the price. The pizza is utterly delicious the fresh from the oven great taste, toppings from front to back, and the buttery crust made from fresh never frozen dough. I LOVE Domino's pan!! I get it with the garlic parmesan sauce instead of the regular sauce, and it is nothing short of FIRE!!!! I'm so glad you tried it and liked it!!