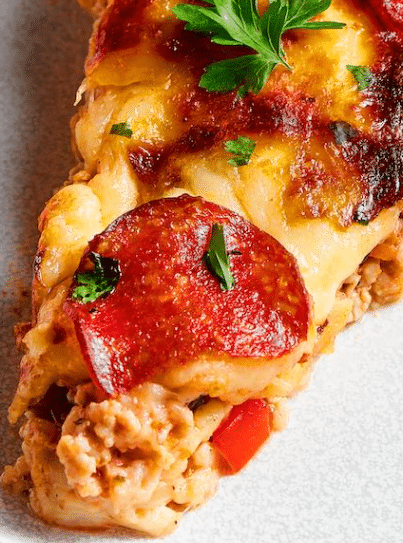 Let us find out to make Crustless Pizza Recipe for Keto Diet Low Carb Pizza easily!
Crustless Pizza Recipe | Keto Low Card Pizza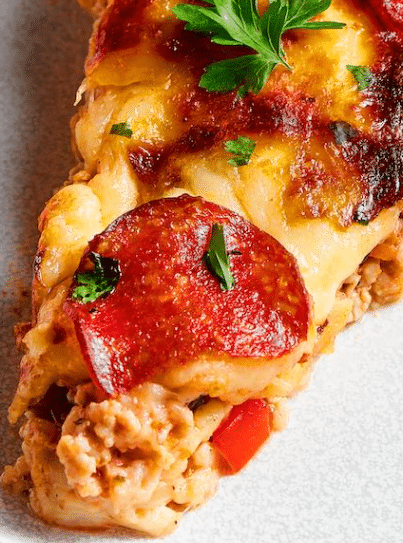 Crustless Pizza Recipe | Keto Pizza
This crustless pizza provides the ultimate comfort of a low carb meal, capturing all the delicious elements of a traditional pizza without the crust. With its melty cheese and savory meat toppings, this dish is incredibly versatile and can be customized to suit your preferences. Best of all, it can be prepared in just one skillet and takes only 15 minutes to make.
Ingredients
Instructions
Preheat the oven to 200C/400F.

Heat the skillet over medium heat and add the olive oil. After it has heated, cook the garlic for one minute. Incorporate the ground turkey into the skillet and use a rubber spatula to break it apart. Cook for approximately 4 to 5 minutes until no longer pink. Finally, mix in the Italian seasonings to complete the dish.

Take the skillet away from the heat source. Mix in the cheddar cheese. Apply a layer of pizza sauce on the surface, then add the mushrooms, olives, and pepperoni. Finish off with a generous amount of mozzarella cheese on top.

Put the pan into the oven and cook the pizza without a crust for 10 to 15 minutes, or until the cheese becomes bubbly and turns a golden color.

Remove the skillet from the oven and slice into four portions and serve to you loved ones!
Notes
Notes for Crustless Pizza Recipe | Keto Pizza
For storage purposes, you can keep any leftover pizza in the refrigerator for a maximum of five days, making sure it is fully covered. If you wish to extend its shelf life, place the cooled pizza in an airtight container and store it in the freezer for up to six months. When reheating, you have two options: either microwave it for 30-40 seconds or warm it up in a preheated oven.
 
Nutrition:
Serving: 1slice
Calories: 282kcal
Carbohydrates: 3g
Protein: 25g
Fat: 19g
Sodium: 494mg
Potassium: 272mg
Fiber: 2g
Vitamin A: 419IU
Vitamin C: 1mg
Calcium: 342mg
Iron: 1mg
NET CARBS: 1g