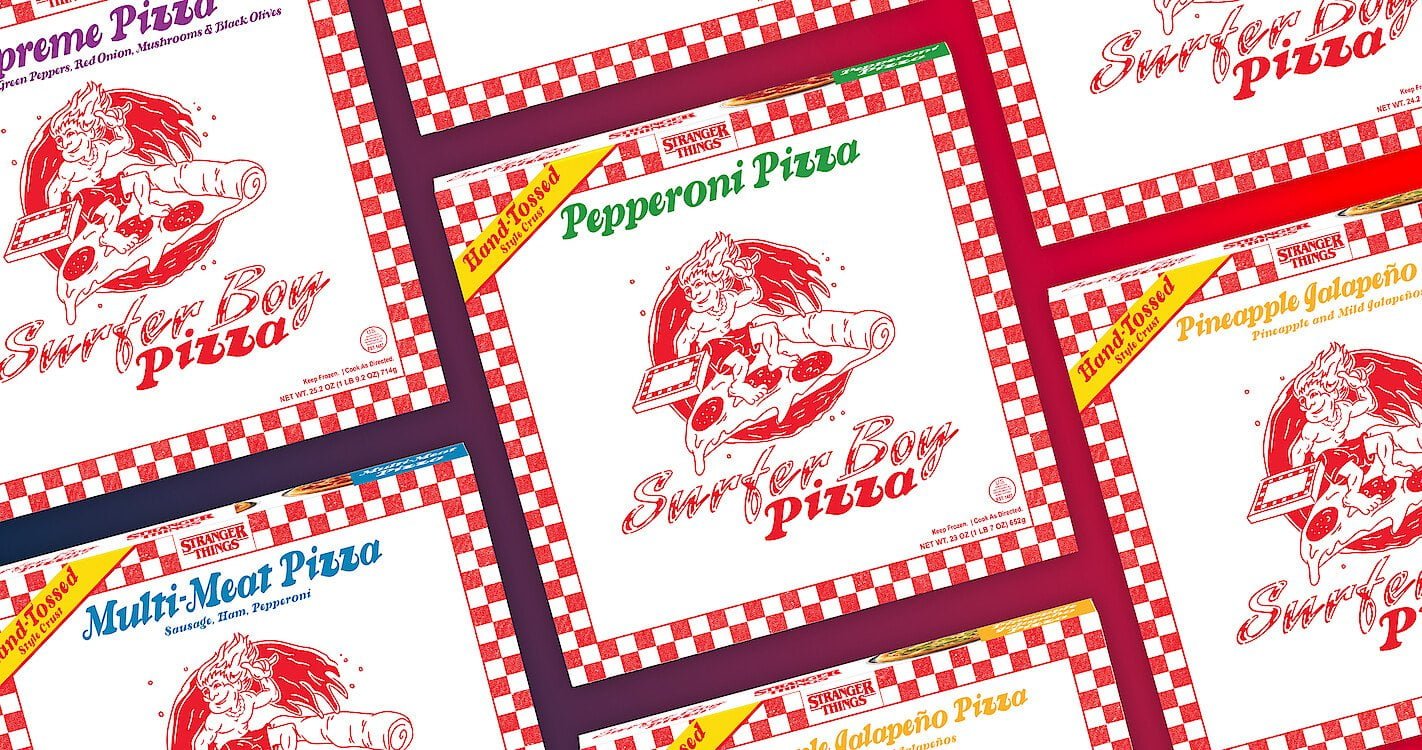 No matter if you're rooted in reality or battling demogorgons in the Upside Down, pizza tastes good in every dimension.
And now, you can get Surfer Boy Pizza, famously delivered by Argyle in season 4 of Stranger Things, for yourself at participating Walmart stores.
Palermo's Surfer Boy Pizza
Stranger Things Pizzas were created in celebration of the new season of Stranger Things.
Upon first being released, fans flocked to Walmart, and Surfer Boy Pizza flew off the shelves – Walmart couldn't keep them stocked!
If you missed your chance the first time around, Walmart has restocked its shelves with every type of Stranger Things Pizza:
Pineapple Jalapeno
Pepperoni
Multi-Meat
Supreme
Each Surfer Boy Pizza comes in a retro '80s-style pizza box, the same as in the show.
Netflix x Walmart Collaboration
To create the Stranger Things Pizza, Netflix partnered up with Walmart to create great-tasting, hand-tossed frozen pizza.
When buying in-store or with pickup or delivery, Surfer Boy Pizza sells for $6.98 per pizza. When purchasing online, Surfer Boy Pizza costs $54.75 for a 4-pack.
About Stranger Things Pizza
Stranger Things is one of the most popular TV shows on Netflix, and it's not hard to see why. The series combines elements of horror, sci-fi, and 80s nostalgia to create a captivating story that has captured the hearts of millions of viewers around the world.
But why specifically Stranger Things pizza? Well, if you're a fan of the show, you'll know that pizza plays a prominent role in several key scenes. In the first season, the gang gathers at their favorite pizza place, Benny's, to discuss their plans for finding Will. Later in the season, Eleven uses her telekinetic powers to steal a slice of pizza from a convenience store. And in the second season, the boys are seen eating pizza while strategizing their next move against the Shadow Monster.
Then, in season 4, Argyle famously delivers Surfer Boy Pizza which started the entire Stranger Things pizza frenzy.
Homemade Stranger Things Pizza
You can recreate your own Benny's pizza by topping your pie with classic ingredients like pepperoni, sausage, and mushrooms. Or, you can get creative and come up with your own unique toppings that reflect the show's themes and characters. For example, you could make a "Demogorgonzola" pizza with blue cheese and spicy sausage, or a "Eleven's Eggo" pizza with waffles, bacon, and maple syrup.
Final Word: Stranger Things Pizza
Stranger Things pizza is the ultimate snack for your next binge watch session. It's a classic comfort food that can be customized to suit any taste, and it's also a fun way to immerse yourself in the world of the show. So the next time you settle in for a marathon viewing session of Stranger Things, make sure you have a hot and delicious pizza by your side.
Your taste buds – and your fellow fans – will thank you.
---
FAQs - Stranger Things Pizza
What brand is the Stranger Things pizza?
Stranger Things pizza is made by Surfer Boy Pizza.
Where do I get Stranger Things pizza?
You can buy Stranger Things pizza at participating Walmart stores and online at Walmart.com.
Does Walmart actually have Stranger Things pizza?
Yes, participating Walmart locations have Stranger Things pizza. You can also order online at Walmart.com
Who makes Stranger Things pizza Walmart?
Stranger Things pizza is produced and sold by Walmart.