Everyone loves pizza. This delicacy of Italian origin has made its way around the world and has become one of the most common fast foods. Additionally, for pizza to be called pizza, it must have cheese, dough, and tomato sauce.
Pizza Hut has been one of the leading pizza chain restaurants in and around the USA. Follow along as we break down Pizza Hut menu prices and a guide on how many pizzas to order.
A Brief History of Pizza Hut
With more than 60 years of service, Pizza Hut has been around since 1958. It was a dream the Carney brothers had for as long as they could remember. So they borrowed $600 from their mother for their first pizza joint in Wichita, Kansas.
Pizza Hut was named because the available sign space only had space for 9 letters. Given the brothers' love for pizza, they created the best pizza with the best ingredients. This was because they knew where the ingredients came from. Built on the promise to make pizza night special, another main goal was to make people happy.
As of 2020, Pizza Hut has 17,639 restaurants worldwide. The Pizza Hut concept is split into three main branches;
The main original family-style dine-in locations
Storefront delivery and carry-out locations
Hybrid locations that have carry-out, delivery, and dine-in options
Pizza Hut Locations
There are multiple Pizza Hut locations within the USA. This isn't news since Pizza Hut is one of the largest franchises in the USA. However, some restaurant outlets have been shut down in some cities, but some Pizza Hut restaurants still exist in your state.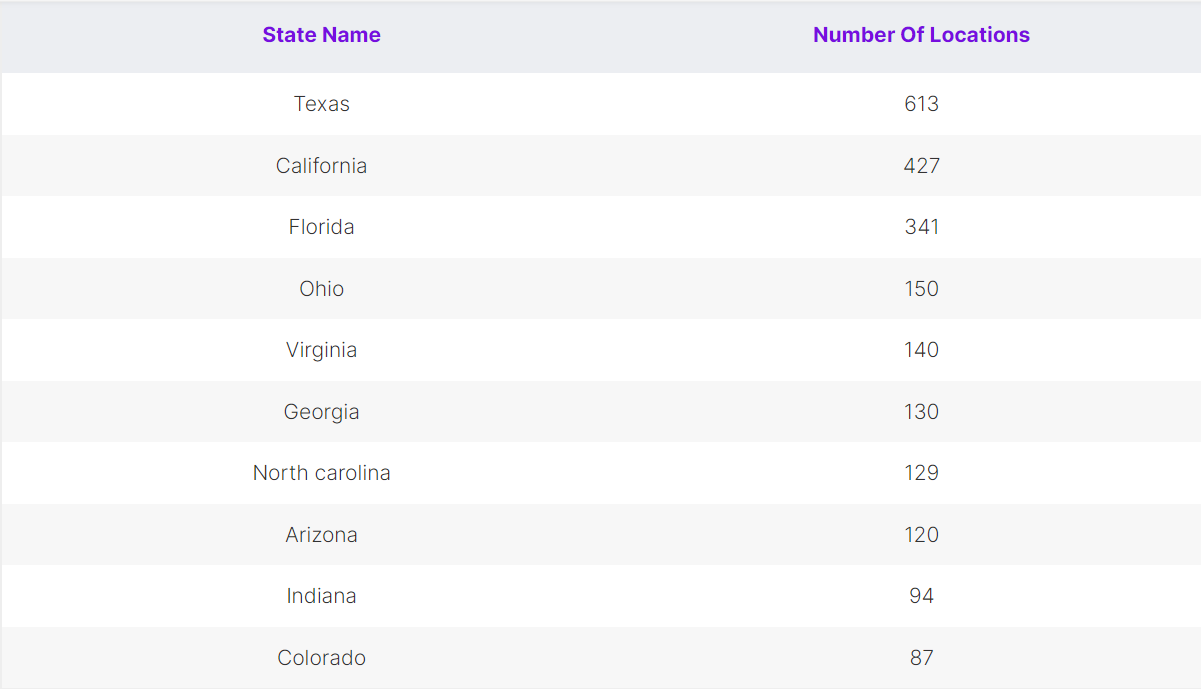 Pizza Hut Types, Sizes, and Prices
Pizza hut menu prices differ between pizza types. The detailed lists below will give you an idea of what pizza you can order and how much you will pay. Keep in mind that Pizza Hut prices also differ depending on your location. Pizza Hut menu prices feature four types of crust:
Hand-tossed
Pan thin and crispy
Stuffed crust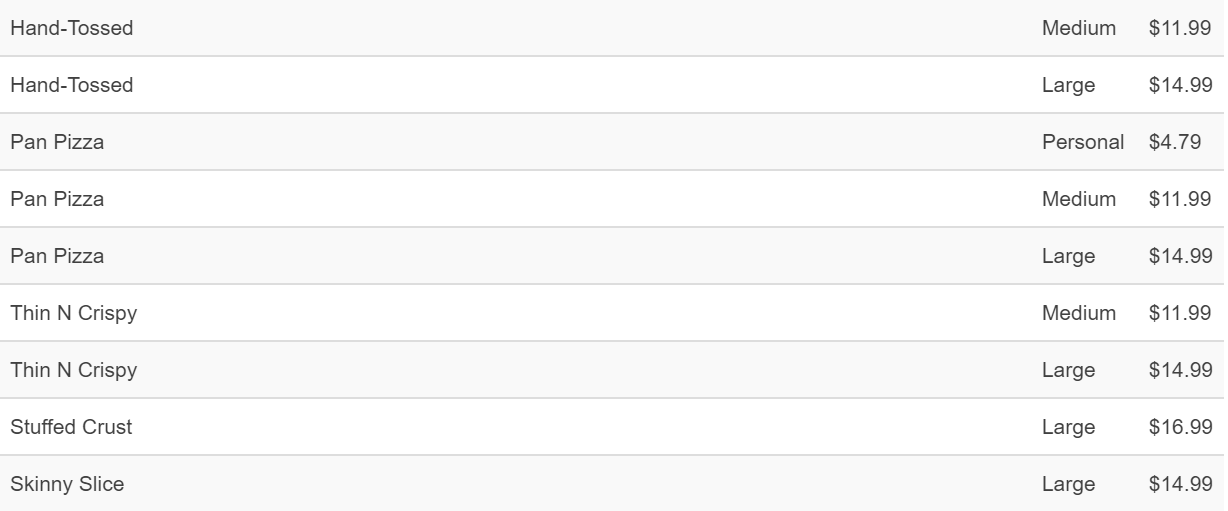 Image Source: fastfoodmenuprices.com
a) Cheese Pizzas
The Pizza Hut cheese pizzas are made with lots of mozzarella cheese. They are the ultimate cheese lover's pizza. You couldn't be more mistaken if you thought this was a plain cheese pizza. This pizza is made with 7 types of cheese, including:
Emmental
Cheddar
Parmesan
Edam
Gouda
Mozzarella
Cream cheese
You can have your favorite cheese pizza with your choice of crust and delicious toppings. Do you know how much dough is used in each pizza crust? Our guess is a lot. The toppings include classic marinara dipping sauce and more cheese. You can also specify toppings of your choice, including garlic, parmesan, grilled chicken, and Italian sausage.
b) Large Specialty Pizza
The new recipe pizzas are new and intentionally balanced spicy pizzas. For example, you can have sweet chili, spicy BBQ honey sriracha, buffalo mild-medium, or burning hot. All these options are available and more.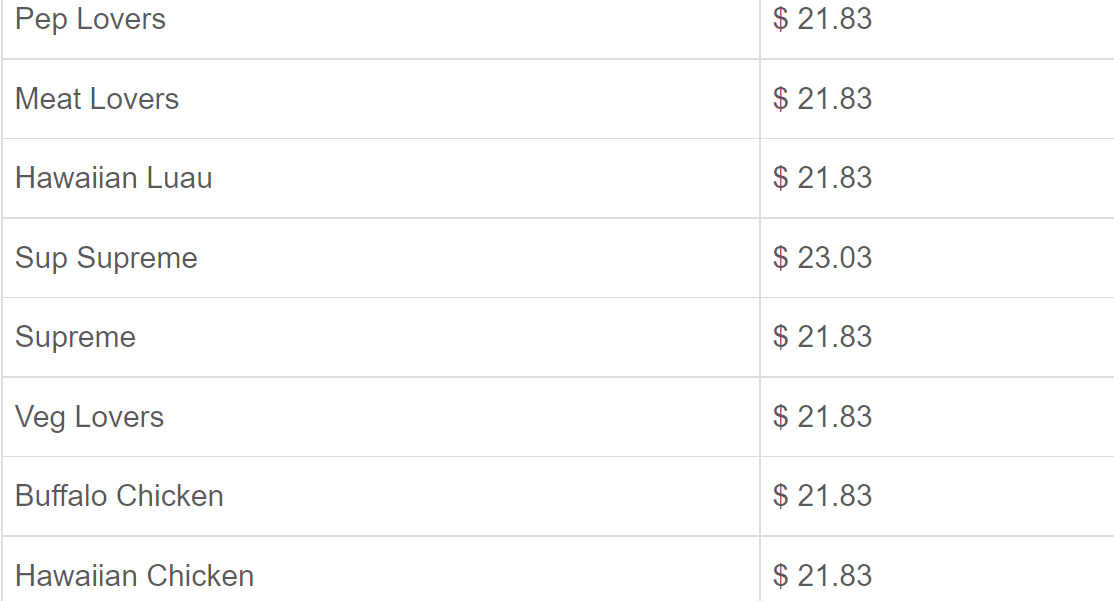 Image Source: thefoodxp.com
Each layer of heat is balanced with red and green bell peppers, sliced red chilis, and fiery hot flakes made from a customized blend of herbs. You can have your Pizza thin and crispy or pan pizza with all that delicious sauce.
There are also options for vegans with the Veggie lover's pizza, which includes spinach, other fresh veggie toppings, and a delicious blend of herbs without the seasoned pork or chicken alfredo. In addition, you can now have your own gluten-free pizza for people with gluten aversions.
c) Medium Specialty Pizzas
The feast pizzas are made for meat lovers. You can have a backyard BBQ chicken pizza and meat fest with the following meat lover's toppings:
Triple cheese blend
Shaved steak
Paprika pulled chicken
Pepperoni and ham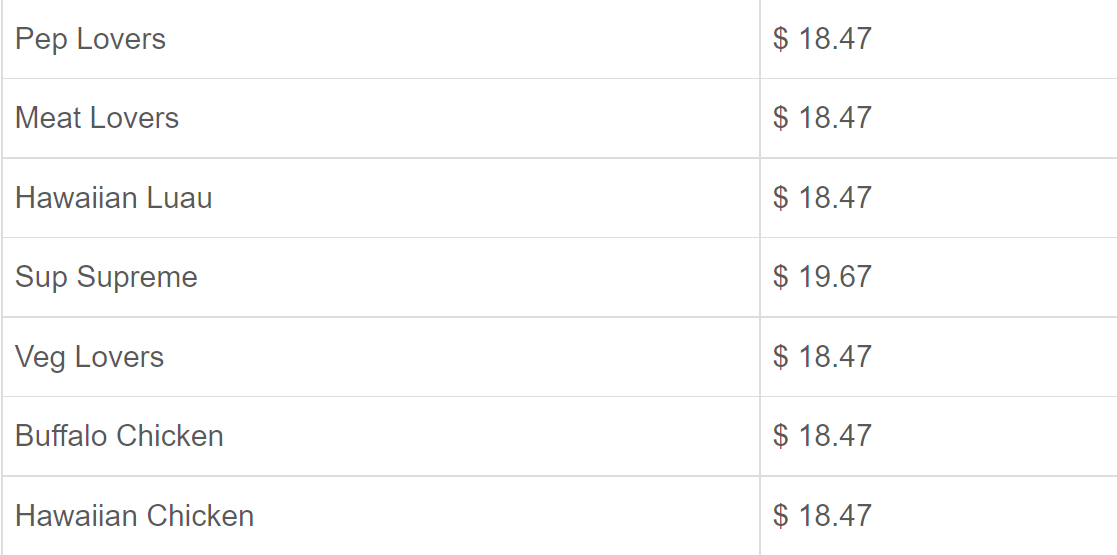 Image Source: thefoodxp.com
The pepperoni lover's pizza has two separate layers of pepperoni. One layer is traditional pepperoni, and the other layer is crispy cupped pepperoni. You can have this option as mild medium or burning hot with other toppings of your choice.
Other Menu Options
d) Chicken
There are many chicken choices in the chicken category, from boneless chicken to traditional chicken wings. The chicken wings category includes types like bone in naked garlic parmesan honey wings and their hottest chicken wing, Nashville hot wings.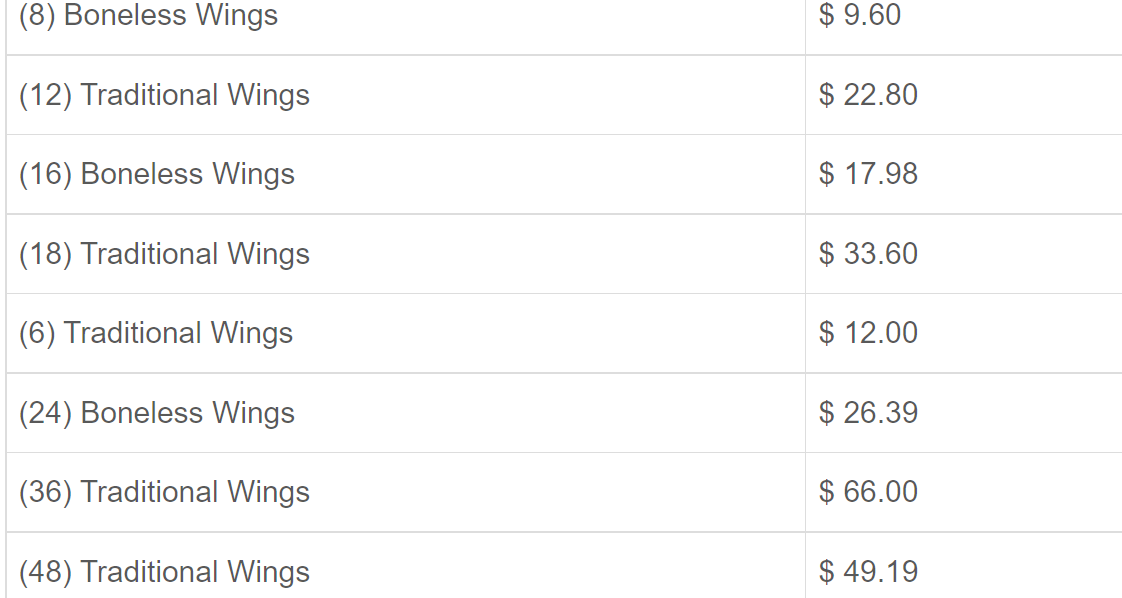 Image Source: thefoodxp.com
How Many Pizzas To Order
Ordering a pizza for one can be challenging. Safe to say, ordering for many people is daunting. Feeding a crowd is one thing; cleanup and leftovers are another. So how do you order just the right amount of pizza?
Of course, there are ways to make it easier to order multiple pizzas. After pre-planning and confirming how many guests you will have, group the number by adults and children. A general rule is to allow 2 pieces per child and 3 per adult. Also, consider that a large pizza has 8 pieces.
If everyone is super hungry, it might be wise to add the number of slices per person or stock up on starter dishes and snacks. You can also use a pizza calculator online to accurately predict the number of pizzas to buy, even for your guests who watch their calories. Plus, you can do the extra legwork and determine how many calories are on your pizza slice.
How to Order a Pizza From Pizza Hut
Nothing beats the joy of enjoying your favorite cheese-filled pizza. Most pizza lovers know this. However, there are different ways of ordering pizza from your nearest Pizza Hut. Additionally, knowing if pizza bases are vegan, dairy-free, or egg-free will help vegans and vegetarians. With the list of unending pizza options, it could be difficult to settle on a pizza.
Therefore, this helpful guide will show you how to order your favorite pizza from your nearest Pizza Hut.
Step 1
Identify the Pizza Hut closest to you. You can easily do this by checking any popular food app or the Pizza Hut app. The app will locate the nearest or most practical outlet for you and how quickly you can receive your food. Of course, you can always change the Pizza Hut restaurant if dissatisfied with the service.
Step 2
Next, you have to browse through the menu. Keep in mind this is to have an idea of the types of pizzas they have. Knowing the variety will give you an easier time when ordering. It will also familiarize you with Pizza Hut's deals on specific pizzas.
Aside from ordering from the app, here are other convenient ways you can order Pizza:
Calling the closest Pizza Hut number (available online)
Using Alexa
Google Home
Placing an order on Pizza Hut's official website.
Using streamlined pizza ads
Dine-in ordering
Using social media applications like Facebook messenger and Twitter chatbot menu.
Step 3
This is when you choose your pizza. When choosing your pizza, there are choices and parameters you have to select. This helps the restaurant know what exactly to prepare for you. Keep in mind that if you have any food allergies, you should try to inform the restaurant before placing your order. Here are some parameters you have to select from:
i) Pizza Size
Image Source: dailyhive.com
The sizes range from small, medium, or large. Each pizza size has its price as well. A small (regular) pizza has 4 slices. The medium pizza has 6 pieces, and a large pizza has 8 slices. Select a pizza that will be enough for your needs.
ii) Crust
Image source: countertoppizzaoven.com
There are 3 different crust types for pizza. A stuffed crust pizza is very filling. It is made with many ingredients and primarily cheeses stuffed in the crust. Therefore, it is similar to the cheese stuffed crust. Finally, the thin crust pizza is very thin. Because of this, it can't have more than 2 toppings because the pizza dough is thin.
iii) Toppings
Toppings are a personal choice. Anything you feel like having can be added to your pizza as long as it's part of the menu. Blue cheese, chicken, savory Italian meat sauce, other savory sliced ham, and any signature Italian sauce of your choice. If you know how to make pizza,
There are two topping types: vegetables and protein. Vegetable toppings include jalapeno, banana peppers, Roma tomatoes, garlic parmesan, and toasted cheddar.
iv) Sides
Sides are optional. With sides, you have the option of
Crispy fries
Breaded bone-out wings
Garlic parmesan honey BBQ sweet wings
Sweet chili spicy BBQ wings
Pizza is a whole meal. However, you also have the choice of sides if you wish.
v) Pasta
Image Source: qsrmagazine.com
The Pizza Hut menu also has a choice of pasta. You can choose meaty marinara pasta, or a creamy alfredo sauce, among others. Pasta is a whole meal. However, it can also be bought like a side or to have options.
vi) Desserts
Image Source: businessinsider.com
Pizza Hut also has sweet and savory desserts. If you are a sweet tooth, you can order freshly baked brownies, chocolate cookies with semi-sweet chocolate chips, and dark chocolate chips. You can also request the Pizza Hut signature cream cheese frosting for anything you order. There is also a range of dessert toppings like frosting and icing.
How to Save Money While Ordering from Pizza Hut
The best thing about buying from chain restaurants is that most offer offs and deals to help you save money. If you enjoy the food and are a regular buyer, then you have probably come across promotions like:
1) Coupons
Coupons are the number one way Pizza Hut offers customers discounts. Different coupons have different discounts on them. As a result, coupons attract more customers and help them to save money on select items.
Image Source: pinterest.com
Pizza Hut offers coupon vouchers from 5%-50%. After receiving the coupon, you can apply it to your current or next purchase. It is also possible to have many coupons that you can use when you feel like it.
2) First Order Discounts
First-time customers receive discounts from Pizza Hut to entice them to shop again. This is offered when you shop online. When you get your discount code, you can only use it once. First, however, you must prove that you are a first-time customer.
Image Source: Promotionsinuae
This is done via registration, where you submit your e-mail and become a member. You will receive a discount code, and you can use it when you check out your honey BBQ sweet chili spicy wings or stuffed crust pizza. Members also get other sweet deals and promotions.
3) Redeeming Pizza Hut Points
On the Pizza Hut application, you can redeem Pizza Hut points. You accumulate points the more you spend. For example, for every $1, you receive 2 points. Therefore, you get to a point where your points can buy you a free pizza.
Image Source: Custmerinsightgroup.com
Additionally, if you click "redeem," the points will automatically be deducted. So you can accumulate enough points for a few free dinners when you don't feel like cooking.
4) Student Discounts
As long you are a student and have a student ID, you can receive up to 20% discounts. However, this promotion only works physically. So you have to show an ID to receive the discount.
However, it's a great offer for students since most students only work part-time jobs. You should know that this discount promotion is only available on Sundays. For example, if you redeem 150 points, you can get a medium, 2-topping pizza. For 250 points, you can redeem any large pizza.
FAQ
i) How spicy are Pizza Hut wings?
They are very hot. If you don't like spicy food, it might be best to order them mild. They might be as hot as hooters wings.
ii) What are the best Pizza Hut sauces?
The best sauce has to be buffalo mild medium or burning hot, followed by honey BBQ sweet chili, spicy garlic, Hawaiian teriyaki, lemon pepper, and cajun dry rub sauce.
iii) Is Pizza Hut's thin n crispy crust healthy?
Yes, it is. The thin crust will help you shave off some calories if you watch your calorie intake. Additionally, you can only have 2 choices of toppings for this pizza.
iv) How many pizza slices are in a personal pizza?
A personal pizza has 6-8 slices. The personal pizza comes in two sizes. Twelve inches and 18 inches. The 12-inch pizza feeds a maximum of two, and the 18-inch pizza feeds between two to four people.
v) How many toppings should I put on my pizza?
The general rule is 3-5 pizza toppings. Mozzarella cheese is not considered to be a topping. However, other cheese types are considered toppings. Anchovies, jalapeno, olives, peppers, and other assorted veggies are toppings.
The Bottom Line
Pizza Hut offers deliciousness in a box. The fast delivery is the icing on the cake because your meal is still hot. You can enjoy it without reheating, which beats the purpose of fast food. When craving a pizza, don't put away those cravings. Redeem your points and eat a full meal in a few minutes.
Featured Image Source: thefoodxp.com