Pizza Bianca is a white pizza that originated in Rome and doesn't have tomato sauce in it. In fact, the main difference between typical pizza and pizza Bianca is the lack of tomato sauce in pizza Bianca. There you go. We've just answered the question "What is pizza Bianca?" in a few sentences.
When you look at the images of pizza Bianca in this article, you won't see any red, except for the toppings, if any. Therefore, if you're not a fan of tomato sauce, you've come to the right place.
We'll show you a detailed white pizza recipe to help you make your own homemade pizza without tomato sauce.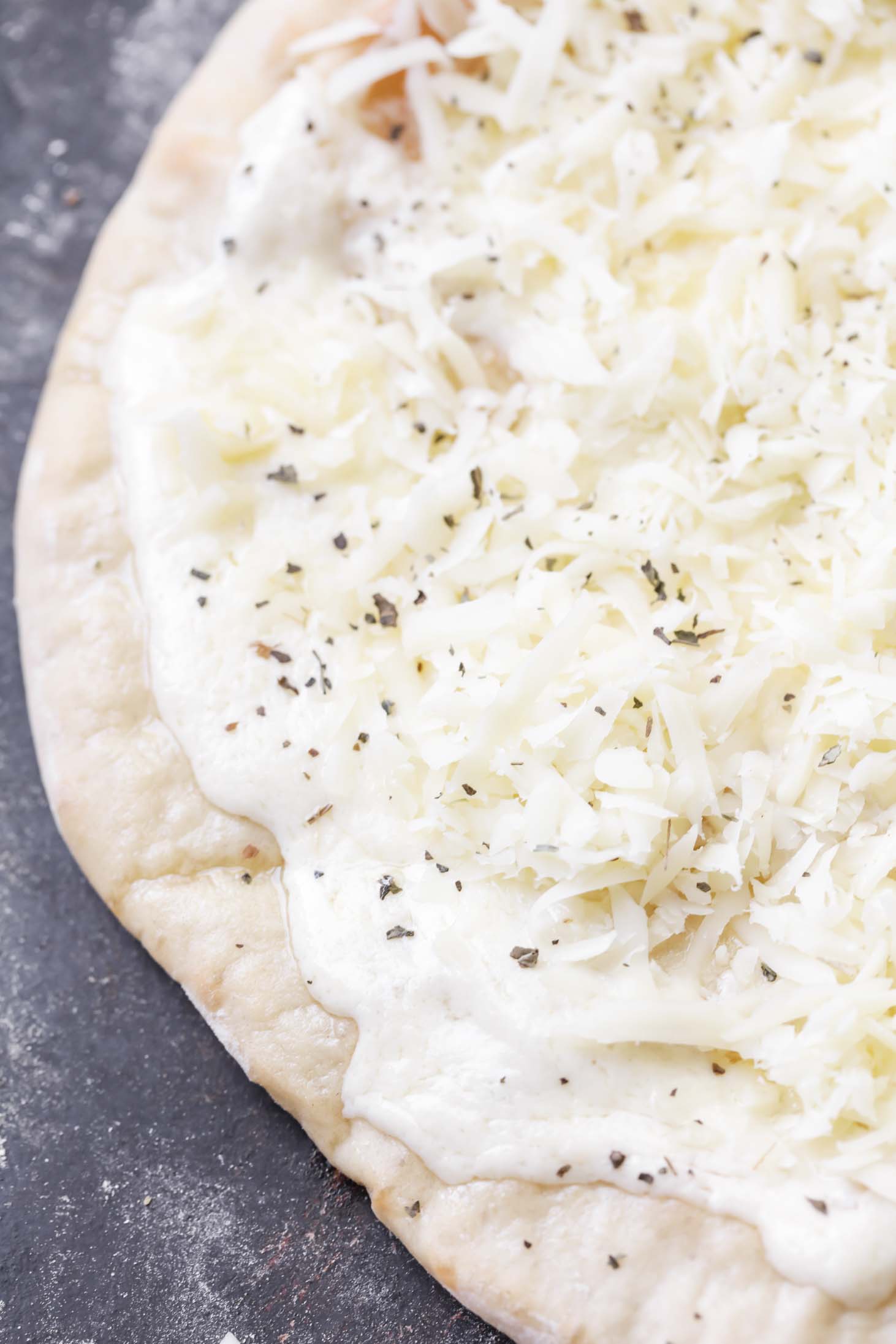 Image Source: lilluna.com
So, what do we use to make white pizza instead of tomato sauce?
We use cream or white sauce. Don't worry; we'll show you how to make your own white sauce in the white pizza recipe below.
You can also make the creamy white sauce from ricotta cheese. You can also choose to use alfredo sauce instead of ricotta cheese if you want.
Let's now look at the origin of pizza Bianca before we jump into the white pizza recipe.
Origin of Pizza Bianca
Image Source: tarasmulticulturaltable.com
White pizza, or pizza Bianca originated in Rome. This makes it different from the common Neapolitan pizzas (Naples-style pizzas) originating in Naples, Italy. Neapolitan pizzas are the common pizzas we know and love today that have tomato sauce in their recipe.
The white pizza was born while Roman bakers were making loaves of bread. So, the story goes that before Roman bakers made their bread, they put a small piece of pizza dough into their oven to test the temperature.
This piece of pizza dough was made from flour, water, yeast, salt, and extra virgin oil. They would then leave this dough to rise for a couple of hours or days before placing it in the oven. This is much like the same procedure we use to make pizza today.
Once they were satisfied with the result, they would stretch the dough, put some cream and cheese on it, and place it in the oven. And just like that, white pizza was born.
Now that you have some background, it's time to join us as we make our very own homemade pizza Bianca.
How to Make Homemade Pizza Bianca Like A Pro (Pizza Bianca Recipe)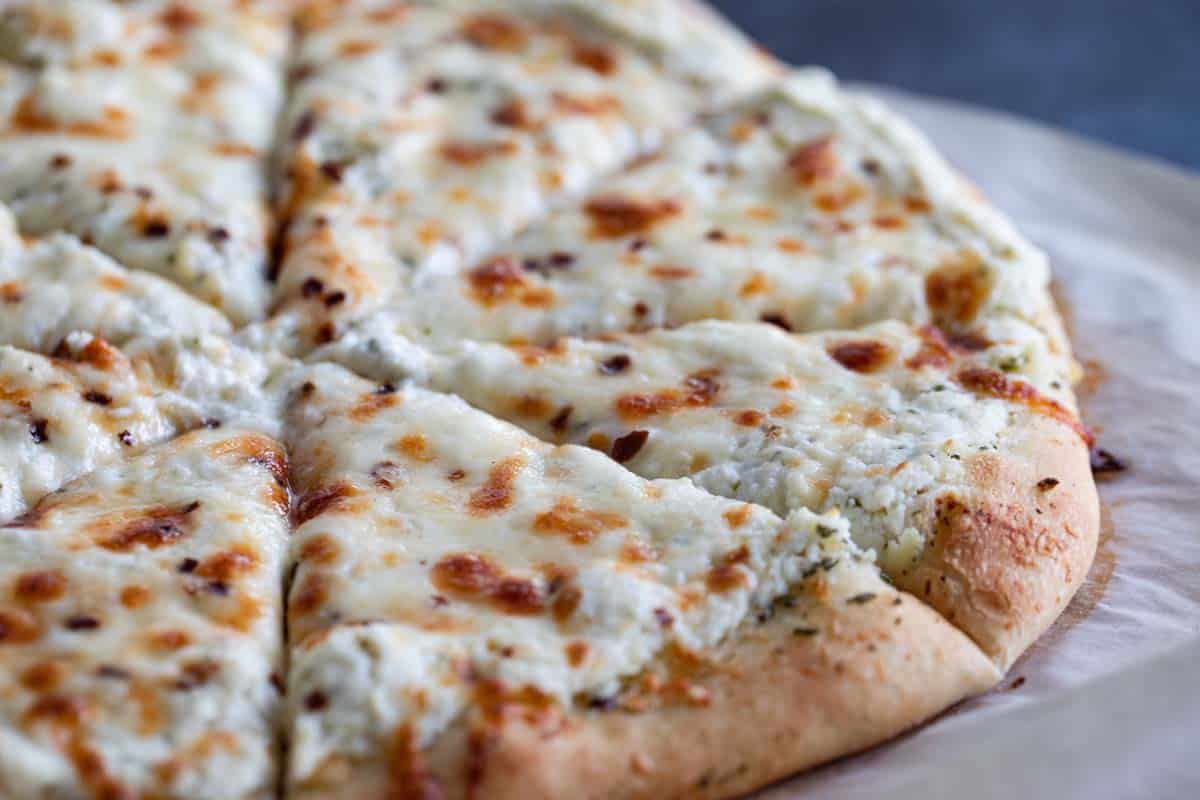 Image Source: tasteandtellblog.com
Now, to the best part – making your own homemade pizza Bianca.
In this white pizza recipe, we will show you how to make your own homemade pizza dough, white sauce, toppings, and more.
We advise that you read through the entire recipe at least once before you start baking your own pizza for the best results.
So, let's look at the ingredients and then how to make magic from them.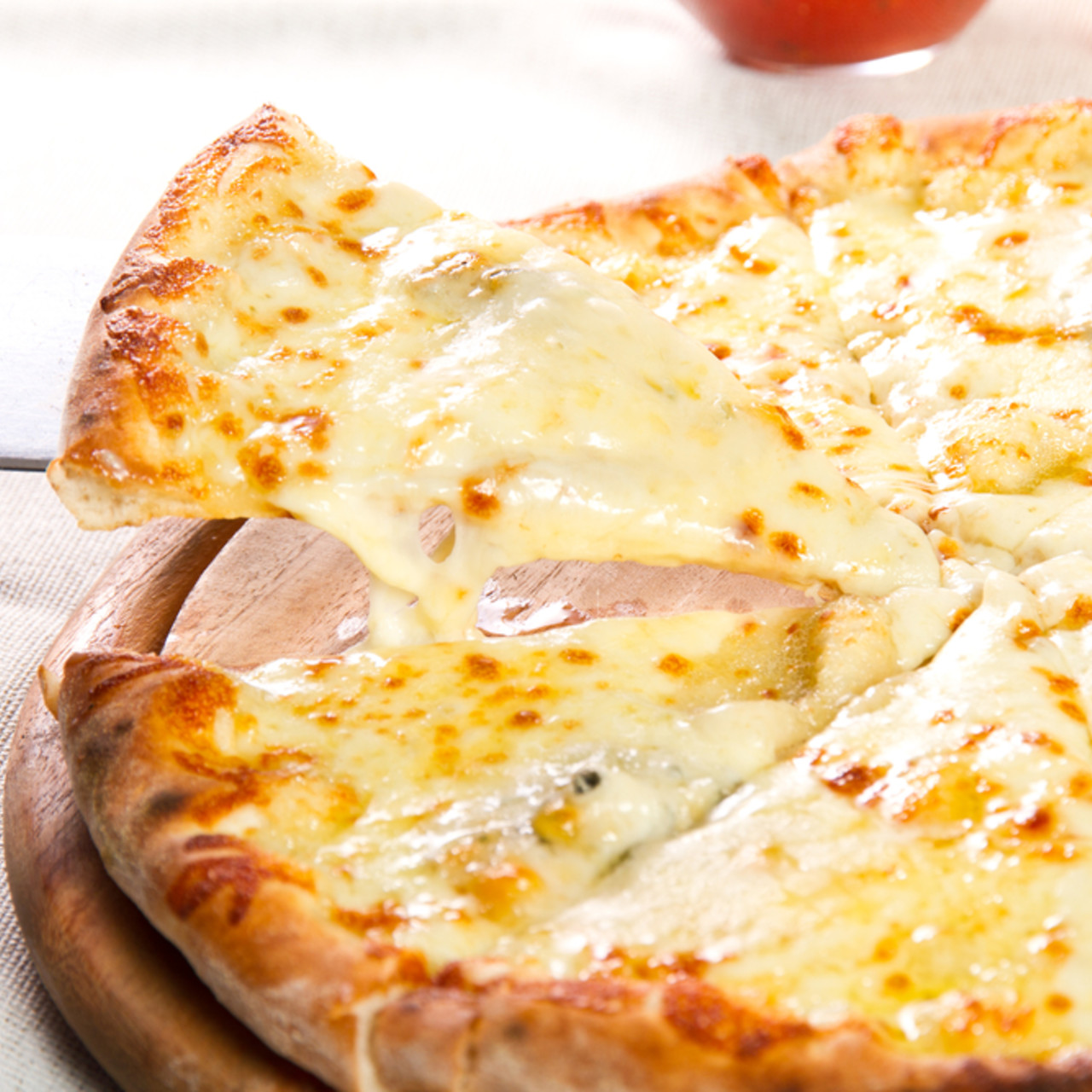 Image Source: bigoven.com
Part 1: Ingredients
a) Pizza Dough
1kg of 00 flour (this is finely-ground wheat flour used to make pizza)
0.03oz of dry yeast
30g of refined salt
650ml of water
10g of sugar
The sugar is to give your white pizza crust that cool brownish color.
b) Pizza Toppings
1 potato
Some salt to taste
1 cup of fresh mozzarella cheese
1 cup of parmesan cheese
Extra virgin olive oil
The parmesan and mozzarella cheese hold the pizza together and give it the perfect texture.
c) White Sauce
15g of all-purpose flour
250ml of milk
22g of parmesan cheese
21g of butter
1 teaspoon of minced garlic
7.5ml of extra virgin olive oil
¼ teaspoon of salt to taste
¼ teaspoon of oregano herbs
⅛ teaspoon of black pepper to taste
Fresh basil leaves
Part 2: Instructions
Image Source: tasteofhome.com
In this section, we take you step by step on how to make your pizza Bianca using the ingredients we've mentioned above.
a) Homemade Pizza Dough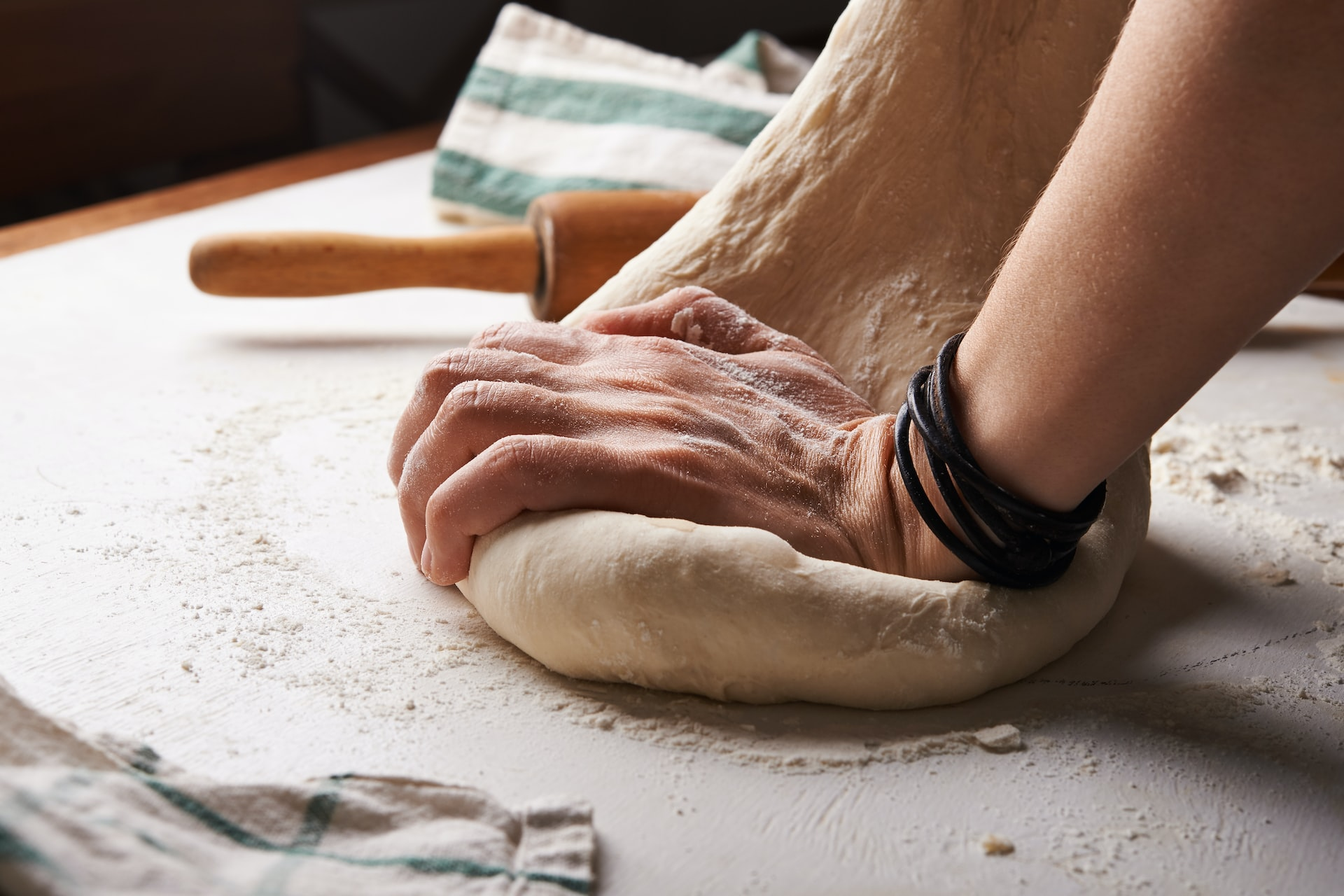 A big secret to a great pizza is making the perfect dough; we'll show you how to do that here.
Instructions
The first step is to mix all your ingredients in a clean large bowl. Pour the water into a bowl and add the salt. Mix till the salt has totally dissolved, and then add the flour.
Keep adding the flour as you mix until all the flour is gone. Once you're done with the flour, add the yeast and mix until satisfied. This whole process will take you about 15 minutes.
The next step is to add sugar, which has two functions. One is to give your white pizza crust a nice brown color, and the second is to provide fuel to the yeast. If you find that your dough is still sticky after adding in the sugar, consider leaving the dough to rest under a cover for about 10-15 minutes.
Step 4 is to add the extra virgin olive oil to the white pizza dough. Mix in the oil and leave the pizza dough to rest for about 10 minutes at room temperature. Ensure that you cover the bowl with the dough with a clean wrap or plastic film for maximum effect. This process allows the yeast to work its magic.
This next step involves some muscle. Therefore, if you haven't eaten anything, it's time to go get a snack. You'll need to knead your pizza dough on your clean counter for about 20 minutes until all the ingredients are properly mixed together. Don't worry if the dough still feels a tad sticky.
Once you're done kneading, leave the dough to sit at room temperature for 4-6 hours. This allows the yeast to ferment some more. Therefore, you can choose to start this process in the morning and make the pizza in the evening or leave the pizza dough overnight.
When you return to your dough, you'll find that it's grown twice its original size. This is why we emphasized using a large bowl. Take out the pizza dough and divide it into 250-gram parts. You can shape them into dough balls and sprinkle some flour on top. The ball shape is to ensure the dough maintains its shape and tension.
Place the white pizza dough balls in a dough box and refrigerate for about 6 hours.
b) Potato Topping
Image Source: eatsmarter.com
We're going for a potato topping when following this white pizza recipe. However, you can choose a different topping if you're not into potatoes.
You could also choose to leave out the potato completely but use the other ingredients in this topping section. If you choose to do so, skip this section and head to making the sauce.
We'll use the other ingredients for the topping when we combine everything.
So, assuming you'll keep the potato, here are the instructions to follow.
Instructions
Boil your potato and carefully remove the skin.
Place the potato in a small bowl and sprinkle some salt and some olive oil on top.
Add 1 or 2 tablespoons of parmesan cheese to the potato.
Crush the potato with a fork and mix the ingredients together. You can use a masher to mix it into another clean bowl.
c) White Sauce
Image Source: seriouseats.com
Instructions
Add the extra virgin olive oil and some butter to a stove and melt it on medium heat.
Add the flour and stir until there are no lumps left. Leave the mixture to cook for a bit until it's slightly toasted.
Add the garlic and continue stirring.
Gently pour in the milk as you continue stirring.
Let the sauce cook until it's thick and smooth. This should take a few minutes.
Add in the pepper, salt, and oregano herbs as you continue stirring.
Finally, add in the cheese and stir until the cheese has smoothly combined with the other ingredients.
Turn off the stove and let the sauce cool. You'll notice that the more it cools, the thicker it is.
Part 3: Making the White Pizza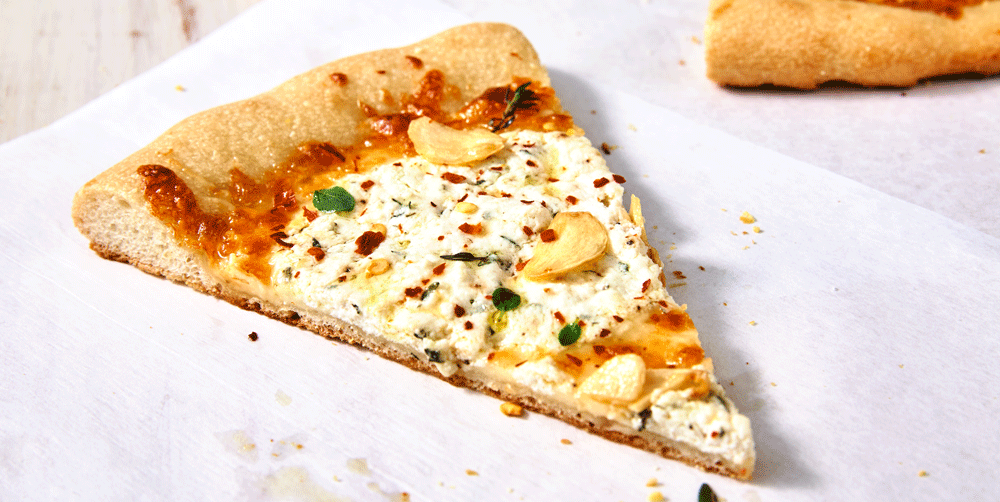 Image Source: delish.com
Here's where we combine everything to make our delicious pizza.
Before we go on, let's bring your attention to the baking temperature because this is a core factor in getting a perfect pizza.
We recommend a temperature of 626 degrees Fahrenheit when making white pizza. However, since most ovens can't reach this temperature, consider putting the highest temperature on your oven and using the best pizza California stone you can find or any other type.
Preheat the pizza stone for about an hour before baking your pizza. This will allow it to be super hot and cook the dough perfectly.
You can follow this guide on how to pre-heat your pizza stone for more information.
If you're using an electric oven, we recommend pre-heating the pizza crust for about 5 minutes before you add the toppings to allow the crust to cook properly.
a) Prepare the Dough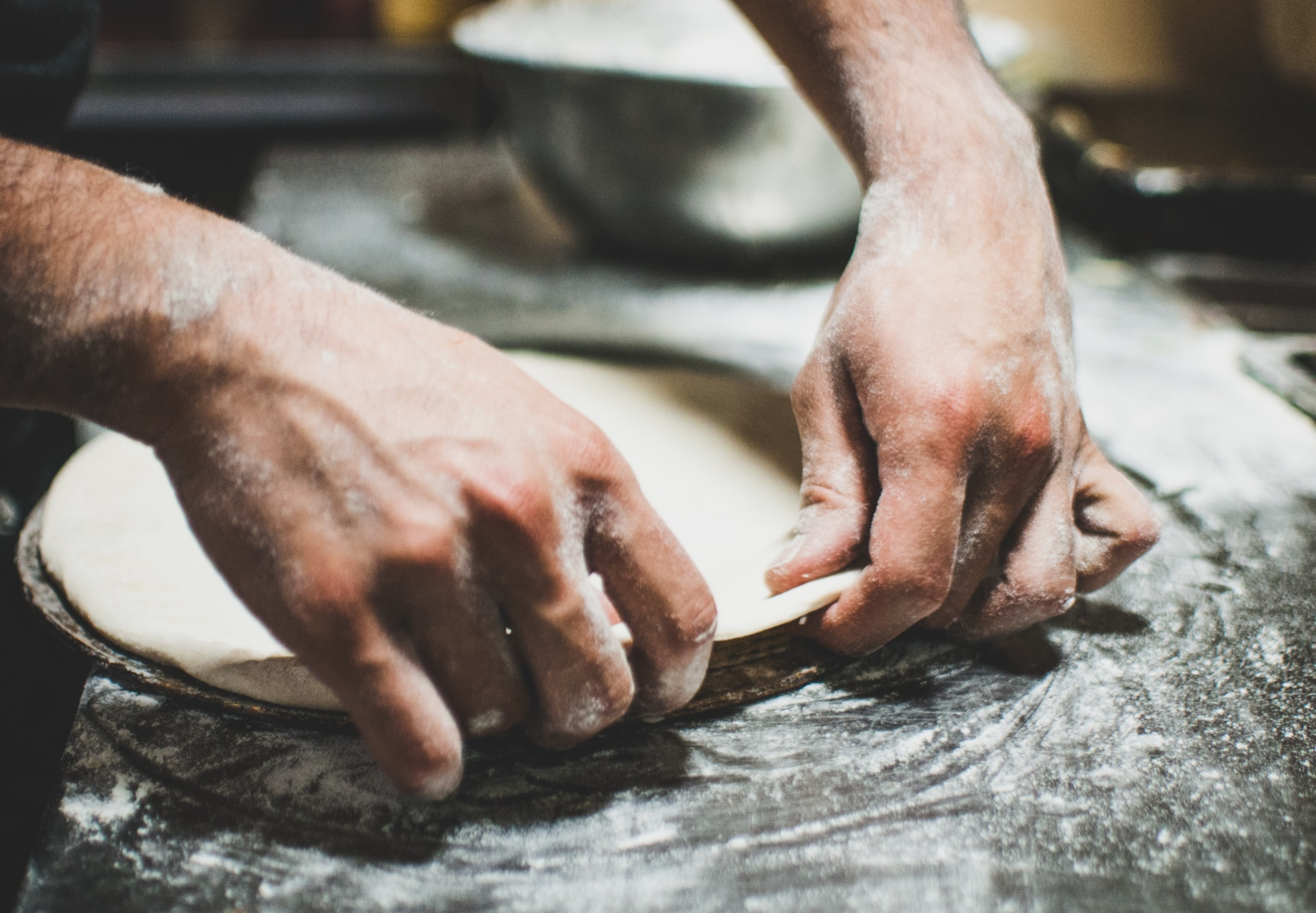 Instructions
Depending on how big you want your pizza to be, take one or two balls of dough out of the fridge and let them sit for about 30 minutes at room temperature.
Sprinkle some flour on your countertop or flat surface and lay your dough ball ready to shape.
Use your hands to shape the dough from the bottom up. Slap the pizza dough to spread it out, and use the ends to make a nice circular shape. Avoid spreading it from the middle, as you risk thinning it.
Continue focussing on the ends until the dough has spread out nicely. Leave the rim as it is to allow it to, later on, form a golden brown delicious crust.
b) Add the Pizza Bianca Toppings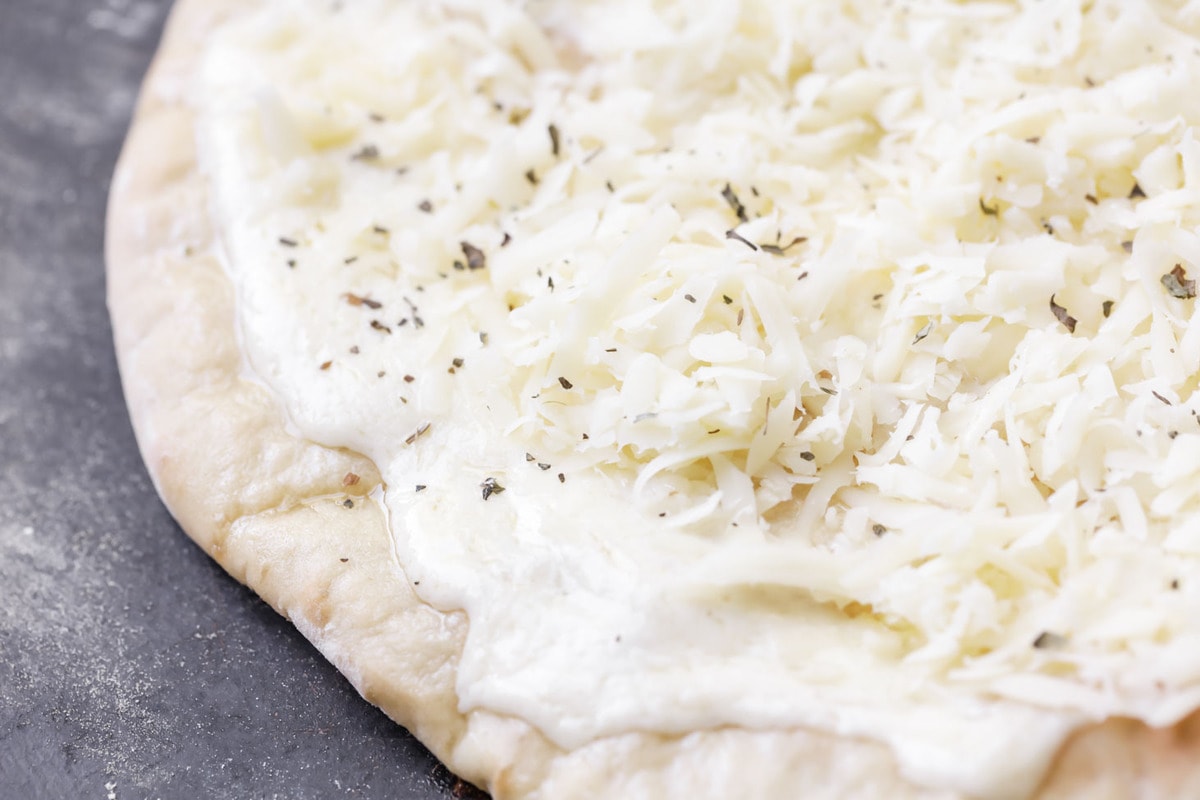 Image Source: lilluna.com
Instructions
Use a broad-base spoon to spread white sauce on the dough. You want the layer to be thin enough for you to still the pizza dough through the sauce.
Add fresh mozzarella cheese on top of the white sauce.
If you choose to use the potato, this is where you add it. Put your potato mix in a masher and spread it on your pizza.
Add some extra virgin oil to add to the taste.
Sprinkle parmesan cheese on top of the olive oil.
Add some black pepper, salt, and basil leaves to the cheese.
c) Bake the White Pizza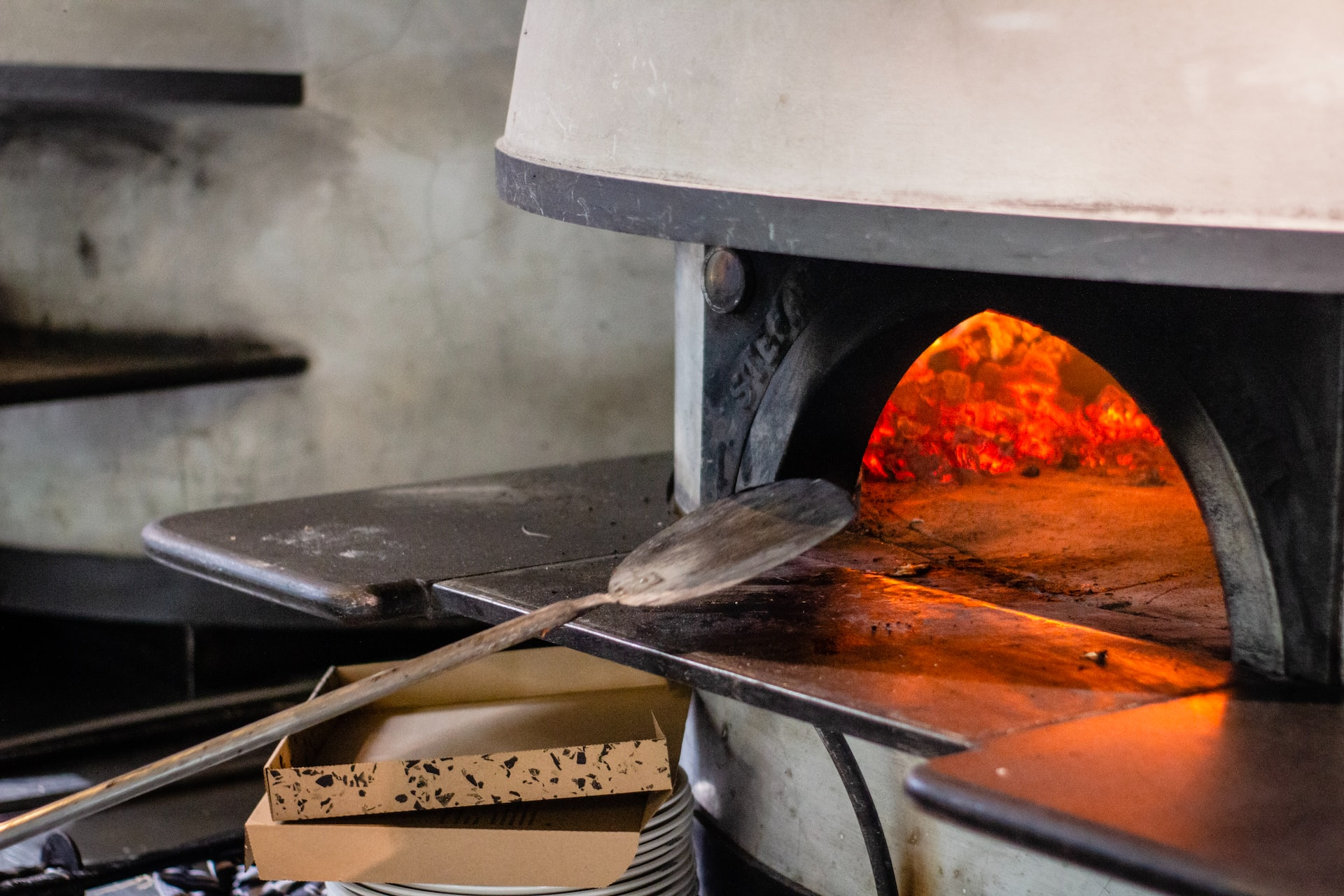 Instructions
Place your perfectly created pizza on a pizza peel and place it inside your pre-heated oven.
If you're using a pizza oven, the cooking process should take about 2 minutes, with you rotating the pizza every 20-30 seconds. This is to allow it to cook on all sides.
If you're using a domestic oven, the cooking process will take a maximum of 8 minutes. You'll need to turn the pizza every 2 to 3 minutes.
Use your discernment to decide if the pizza is properly cooked and remove it from the oven.
Remember to use protective gloves to remove the pizza from the oven. Take out the pizza with the pizza peel.
d) Serve the Pizza Bianca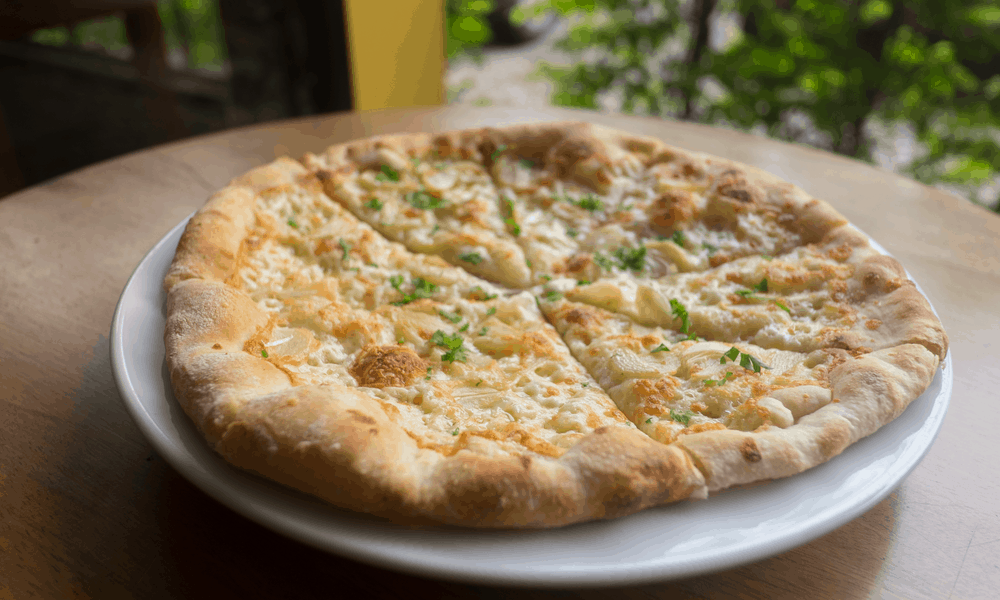 Image Source: bacinos.com
This is the moment we've been waiting for.
It's time to serve and eat your delicious white pizza. If you have people in your household, this is the time you proudly announce that pizza is ready. In a few minutes, you and your loved ones will be licking your fingers with full bellies and grins on your faces.
Let us know if you prefer pizza Bianca to the Neapolitan pizza after this experience.
Here are other pizza recipes you can try with an air fryer at home, especially if you want to take your air fryer for a spin.
Frequently Asked Questions About Pizza Bianca
Image Source: veenaazmanov.com
1. Can you use plain flour to make the pizza dough for white pizza?
No. The best flour to use while making pizza Bianca is 00 flour. If you can't find 00 flour, regular bread flour is the next best thing to use.
The main reason we recommend 00 flour is its high protein content, which enables the gluten to develop better. Regular bread flour has higher protein content than plain flour, which makes it a better substitute for 00 flour.
2. What's the best way to store pizza Bianca?
Carefully wrap any leftover pizza Bianca and store it in your fridge or freezer. If you decide to freeze it, ensure that you defrost it in your fridge before you warm it in the microwave or oven.
If you just put it in the fridge, you can simply warm it in your microwave or oven.
Featured Image Source: taste.com.au