It is without a doubt that on top of guaranteeing delicious wood-fired pizza, an outdoor pizza oven adds great value to any home. With these simplified strategies and instructions, you can easily learn how to build a backyard pizza oven from scratch. Moreover, your friends and family will appreciate the pleasant fire hearth, delicious wood-fired pizzas, and other exceptional meals. Plus, the outdoor oven will pay off as an impressive showcase if you sell your home.
In this reference guide, you will learn how to DIY your own backyard oven and alternatives like masonry kits.
Factors to Consider Before Building a Backyard Pizza Oven
Before starting your building project, it is important to have some things in place. Like every other project, having a solid and well-laid plan will ensure you complete your project. Therefore, to build an outdoor pizza oven, consider the following so that nothing halts your project halfway.
1. Consider the Right Location
When starting a project like building a DIY outdoor pizza oven, location is among the most crucial factors to consider. The fact that a brick pizza oven is a permanent fixture means you have to think about where you want it to be.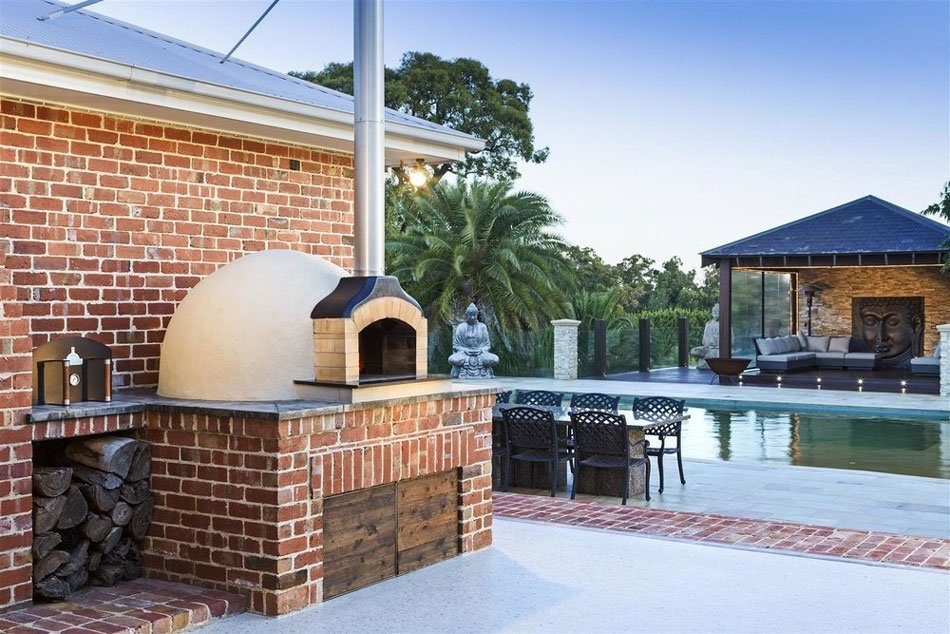 Image Credits: crustkingdom.com
Ask yourself questions like, what will you use it most for? Do you want to build it near the patio, or do you have an outdoor kitchen area? Do you want it in your backyard garden or near a pond? Whatever you opt for must consider convenience, accessibility, and functionality. After all, the outdoor pizza oven is not meant to be a decoration piece in your yard.
The material of your home should also influence the location to ensure it fits well with everything else. Even when installing the best ready-made outdoor pizza ovens, picking the right location remains essential to having your own outdoor oven.
2. Inquire About Permits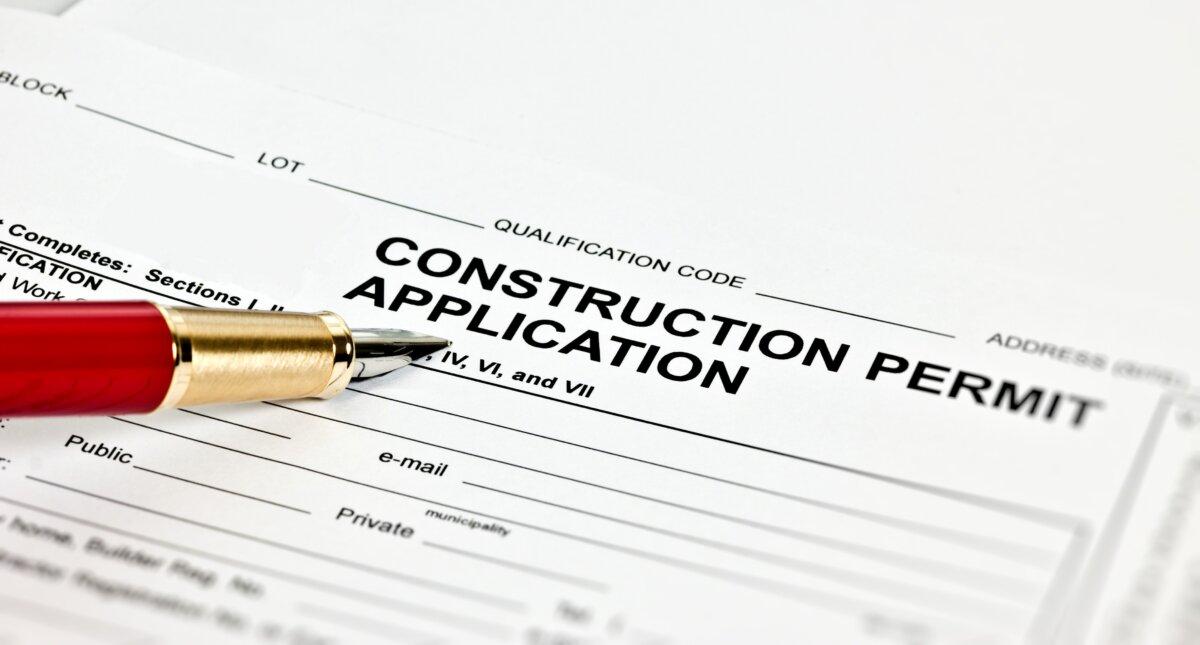 Image Credits: metrobuildingandremodeling.com
Check with your local permitting department to determine if a permit is needed to construct the outdoor pizza oven. Remember that every jurisdiction has rules and regulations governing the construction of any kind.
Additionally, if any homeowner's association controls your house, you will require clearance before embarking on your wood-fired pizza oven. In regions with no provision for a pizza oven, you will find that a permit for an outdoor fireplace will suffice.
3. Set Aside Ample Time
Building a brick oven is a very time-consuming affair. It is, therefore, important that ample time is set aside for the construction from start to finish. While some pizza oven tutorials may give you the assumption that you will need a certain amount of time, it is safer to double that time to be safe.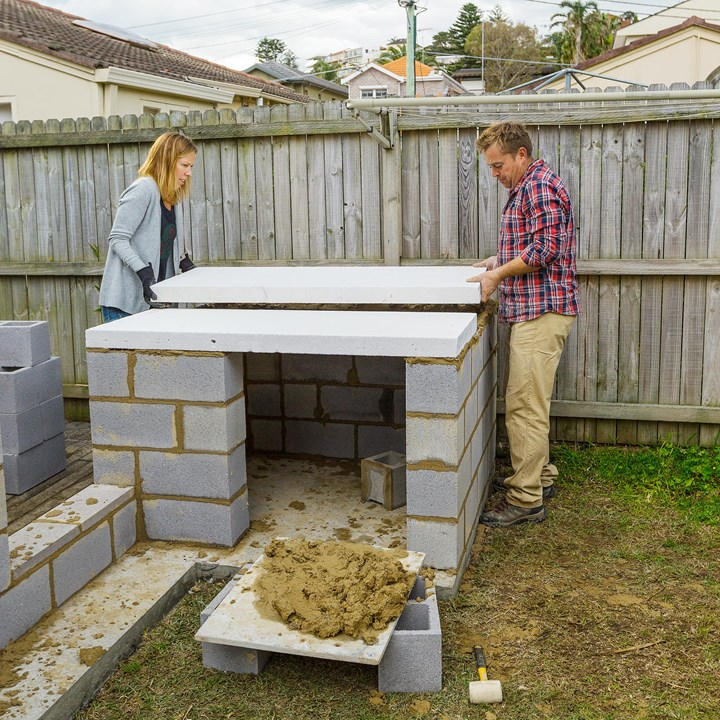 Image Credits: bhg.com.au
Why do you need extra time? For one, the process involves different parts and stages that take a different amounts of time to accomplish. Secondly, even if you have all the time to devote to constructing your pizza oven, it may work differently than you envision. For example, some stages of the construction will involve curing and drying for several days, if not weeks; at this stage, there will be little to do on your end. Another factor to consider is that no one controls the changes in weather conditions.
Double the estimated construction time and plan to be flexible during the process. Flexibility will ensure that you can adjust to everything that arises.
What Do You Need to Build a Brick Oven?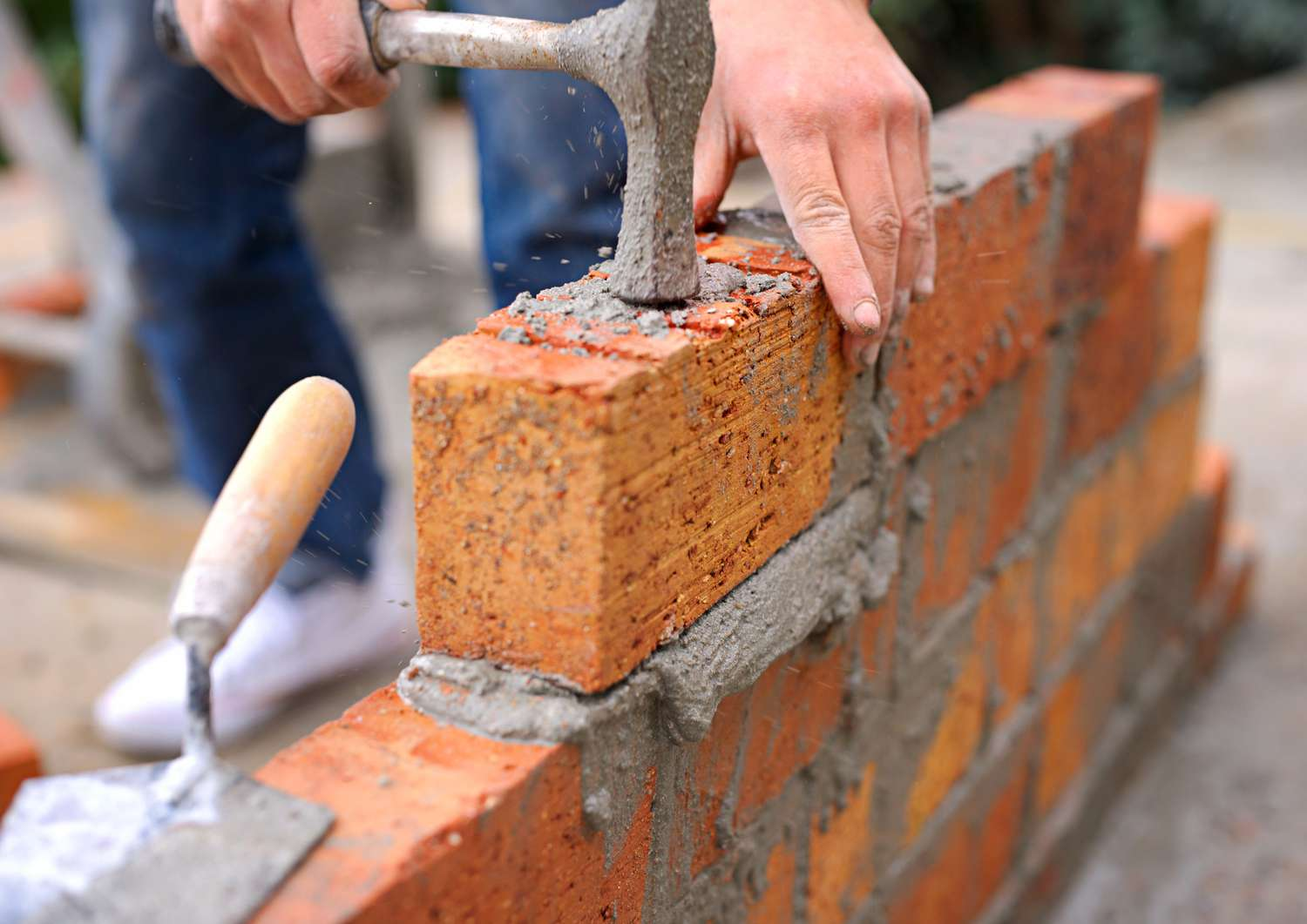 Image Credits: thespruce.com
There are different tools and materials that you will need to have before you start the construction of your pizza oven. It is important to note that there are several variations of construction tools for your outdoor pizza oven.
The materials you have chosen to use will determine the kind of tool you will need. Nonetheless, some common hand and power tools that are more often mandatory for the construction of a good wood-fired pizza oven include:
Strong buckets for mixing the mortar
A good drill with an attached paddle for mixing the mortar
Handheld circular saw designed to cut through brick and stones
Hammer
Wire brush
Vent piping and cap
Chisel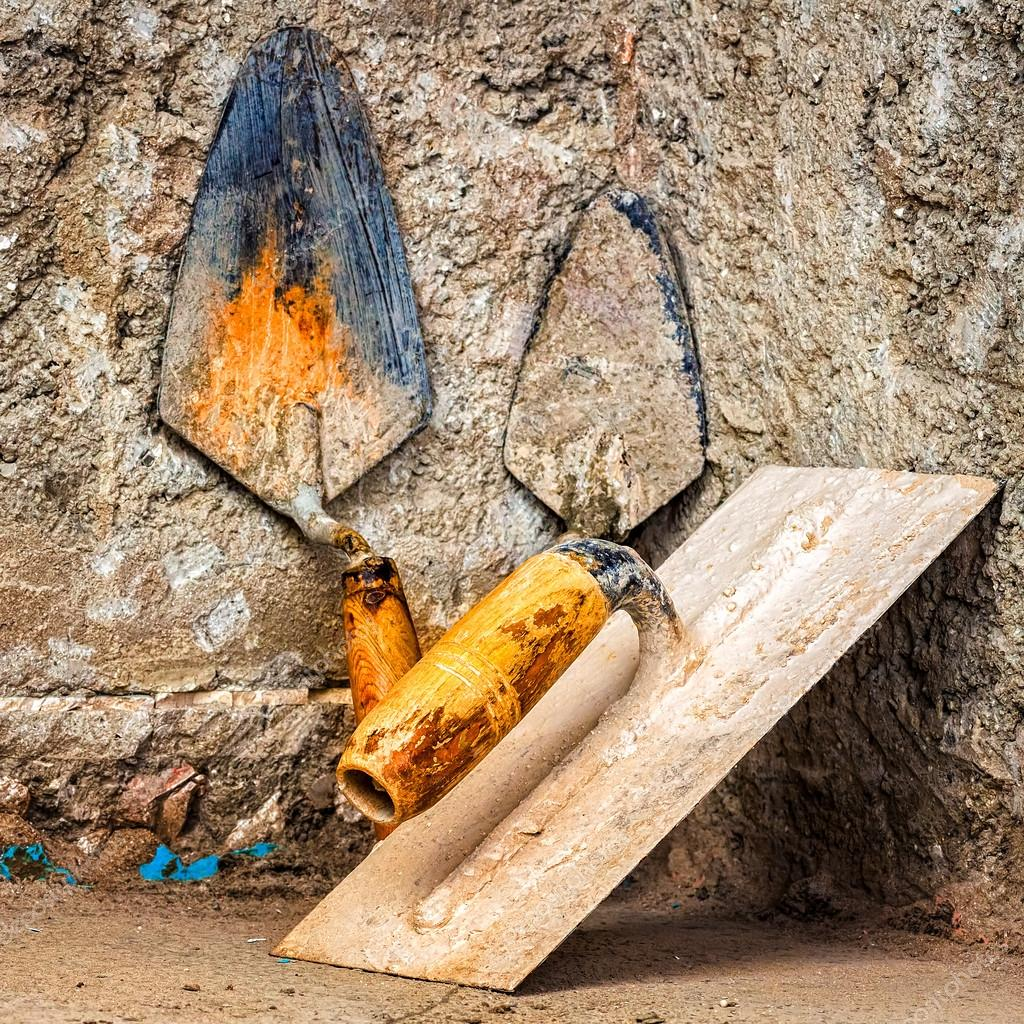 Image Credits: depositphotos.com
Other tools like mobile mixers, spirit level, shovels, and more are also recommended. However, as mentioned earlier, the tools and materials you are working with are. Below are some common materials used in the construction of a DIY pizza oven:
Mortar or Concrete
Natural stone
Roof underlay
Sealant for roofing
Fire Brick
Trowel for bricklaying
Clay, brick or mortar
Refractory cement
Vermiculite
Ceramic fire blanket
Rebar mesh
Gravel
How Much Does Building a Backyard Brick Pizza Oven Cost?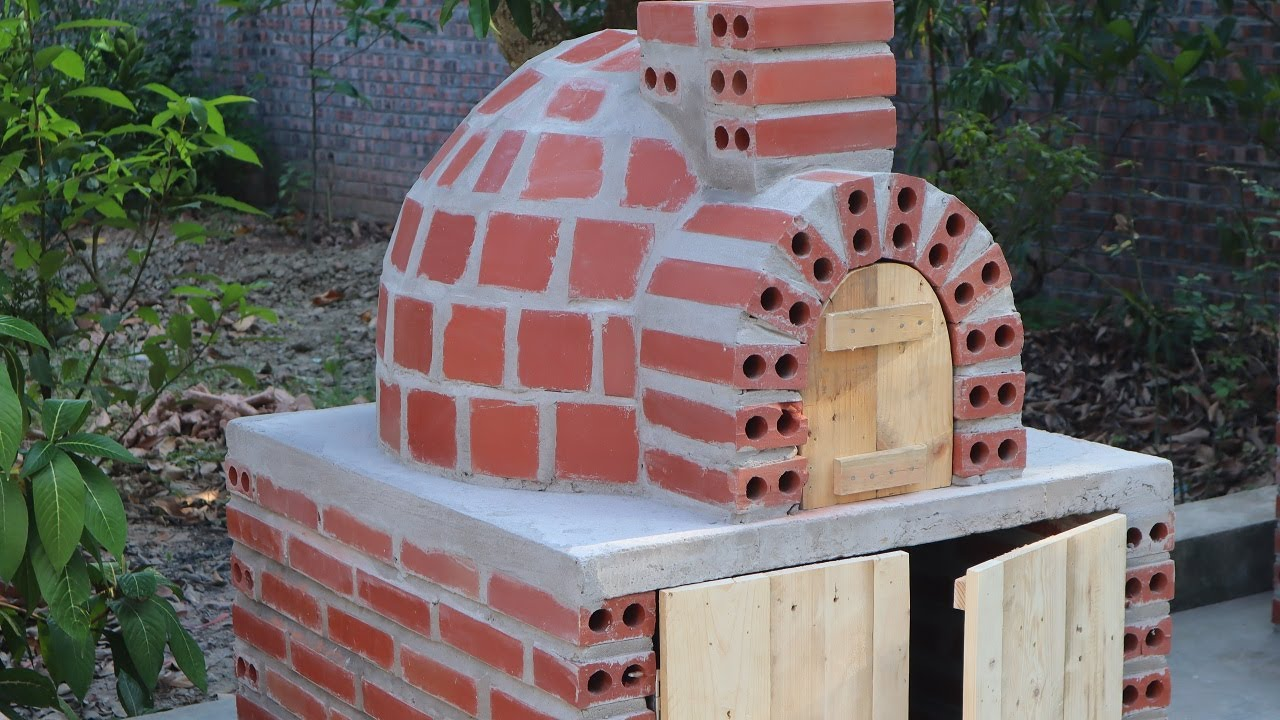 Image Credits: youtube.com
Like every other project, it is always wise to have a budget. Working with a budget ensures you know your limit. The final cost of building a DIY pizza oven varies depending on the design, size, materials, and level of masonry skills.
Find out the cost of tools and materials so you can know the difference between your initial estimate and the final figure you will be working with. It is better and much cheaper when you go for locally sourced materials. Here is a general estimate for building an outdoor pizza oven by an experienced contractor:
Large or commercial brick oven: $11,000 – $26,000
Medium brick oven: $7,000 – $10,000
Small brick oven: $3,000 – $6000
The Construction Process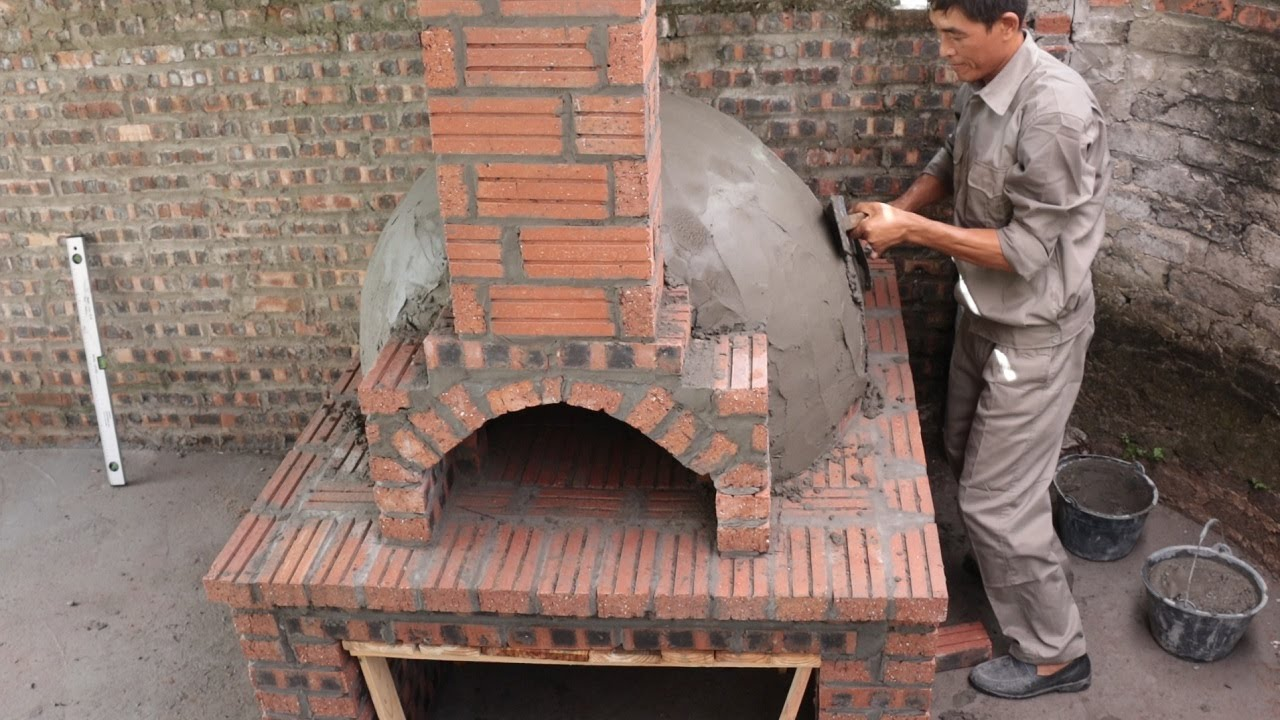 Image Credits: youtube.com
The building process will vary depending on whether you have a kit or are building from scratch. True refractory materials are meant to be laid tight, and the joints should be tight throughout the oven.
The task may be daunting if it is your first time building a brick pizza oven. However, remember that every part of the process is important. And any mistake could see your oven result in poor heat circulation leading to undercooked food, or in worst-case scenarios; the oven could easily collapse.
1. Building the Base
The first step in building your pizza oven is to set up the oven base. A strong base is mandatory if you have bought a pizza oven insert or opted to build your dome. Inspect and ensure that the surface you intend to build the base on is strong, sturdy, and won't shift. To be safe, use a concrete slab reinforced with rebar mesh.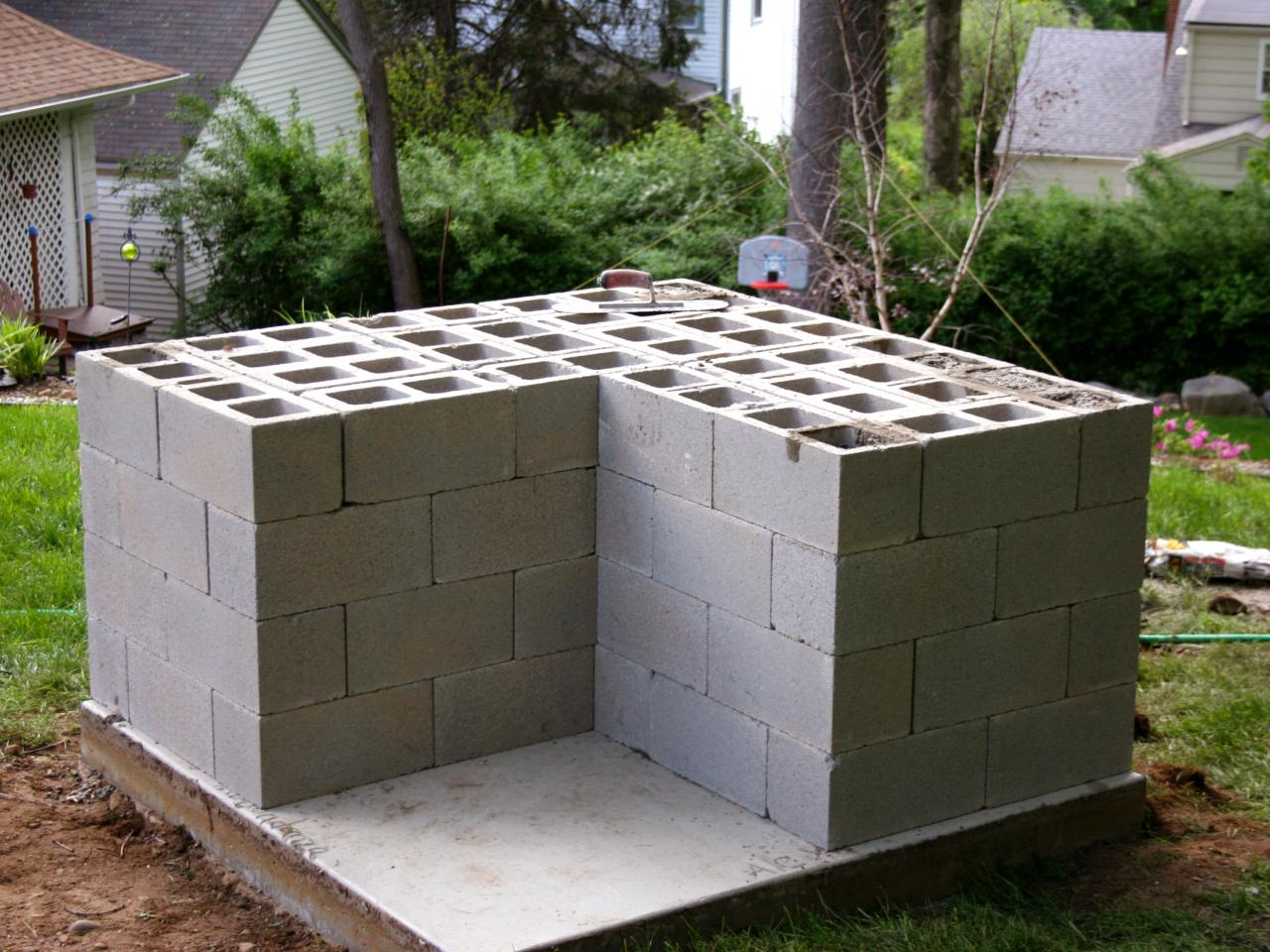 Image Credits: hgtv.com
A concrete block is usually the preferred base option due to the amount of weight the base is meant to hold. If you've decided on a DIY pizza oven, ensure that the ratio between the height and base is perfectly designed. The oven door placement area should also have sufficient space. Most of these guidelines will be spelled out in the manufacturer specs if you buy an insert.
The first step is to dig out a base for the concrete foundation. Consider your location, climate, and the soil of that ground to determine how deep you dig the foundation. After digging, put a level layer of gravel and a rebar grid to ensure the foundation never cracks. Then pour and fill it with your concrete to form a long-lasting foundation that can support a heavy brick oven.
2. Choose a Design for Your Oven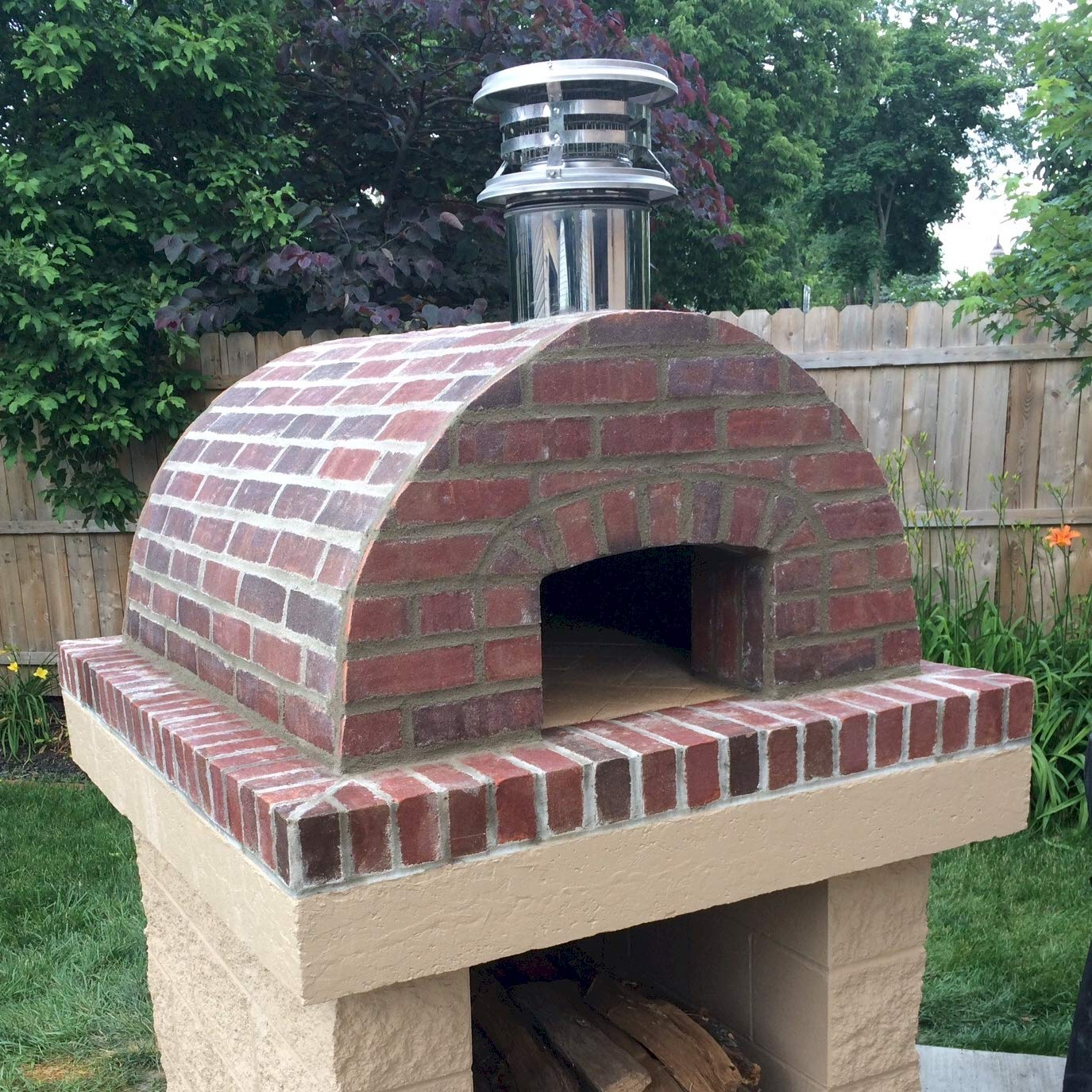 Image Credits: amazon.in
The design you opt for for your pizza oven is crucial in guiding your construction steps. So much is to be considered when designing a pizza oven: the dome's height and width, the joints' thickness, the size of the tunnel, and the size of the bricks used are all important factors. Traditionally, pizza ovens were dome-shaped, but you can opt for an igloo design or airplane hangar form.
3. Building the Oven Dome
When setting up the oven dome, there are usually two options: build it from scratch or buy a ready-made insert. Both options will offer you the desired result, but everything will depend on your budget.
When building your oven dome, you must ensure that the measurements you use are correct. Note that the heating and air circulation depend on the dome and door dimensions. With a step by step instructions from a manufacturer, the details lessen the workload for you. However, when doing it on your own, the rule is to ensure the dome height is 3/4th of the width.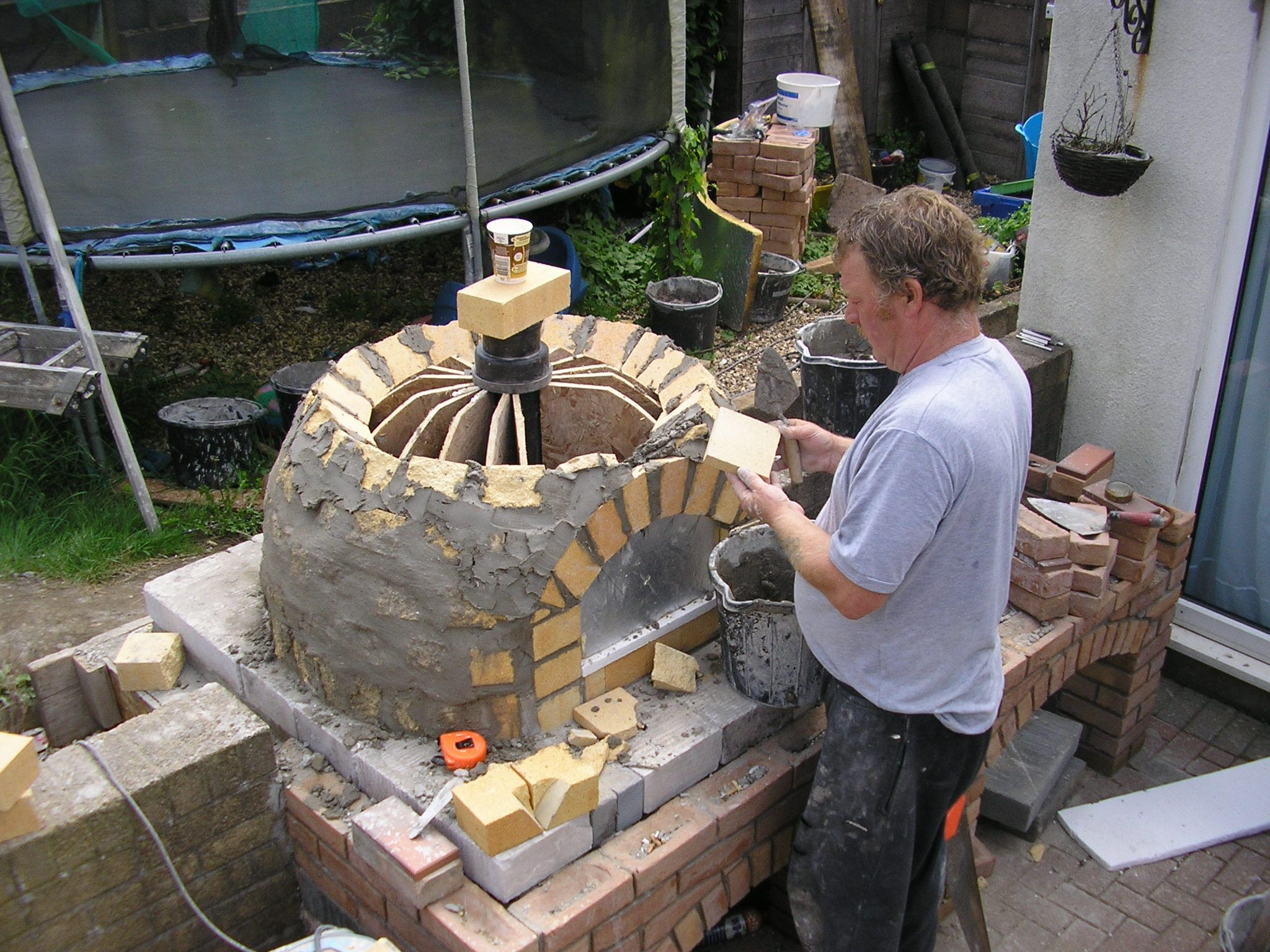 Image Credits: pinterest.com
Build a Good Sand Base
You can easily build a uniformly shaped dome with a good sand base. First, mold the dome shape you have chosen using sand. You can occasionally dampen the sand to maintain your chosen dome shape. Once the sand mold is in place, start forming the masonry dome with fire bricks and refractory mortar. After successfully building the masonry, you can now dig out the solid sand.
The sand is bound to give you problems, so use a dummy dome insert. Dummy forms come in handy when you want to build flawless arches. With a good one, you'll only need to build your oven dome around it with fire bricks and refractory mortar. Then, after everything is properly in place, pull out the Styrofoam form and leave it behind the resulting vault.
Pizza Oven DIY Kits
There are numerous reasons why people go for DIY pizza oven kits. While an avid do-it-yourself enthusiast may be inclined towards building from scratch, DIY kits also offer the same rewarding experience. As the popularity of DIY kits increases, it is worth considering if using them would be a better option for you.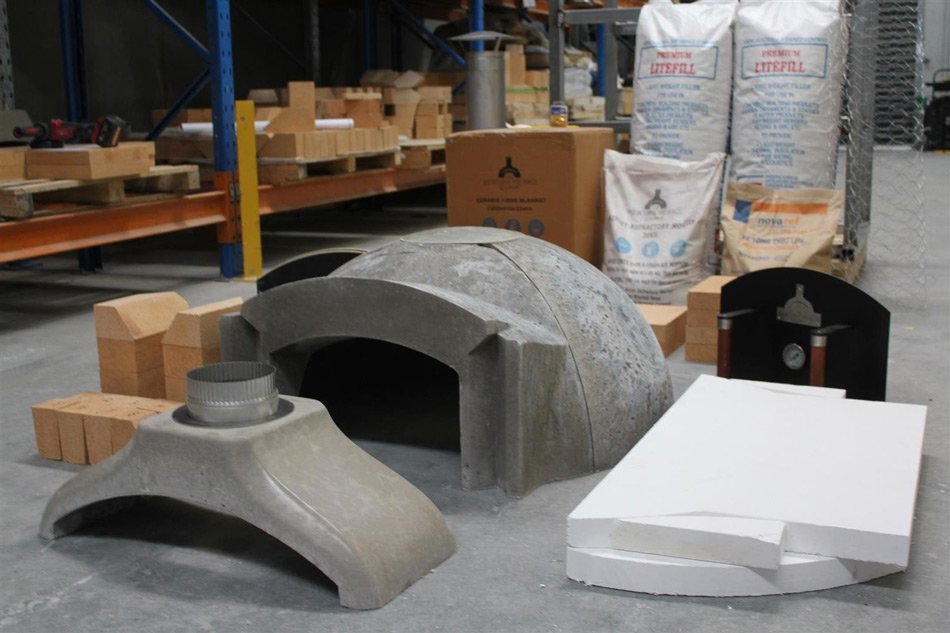 Image Credits: crustkingdom.com
Here are some reasons why you might opt to use DIY kits:
1. Ease Of Use
When you compare a traditional DIY oven to a pizza oven kit, you'll realize that DIY kits are easier to use. One of the biggest advantages of DIY kits that has everyone turning to them is the ease of use. In addition, these kits come packed with detailed instructions on assembling and using the components. As a result, kits are easier to use, especially for those with less masonry experience.
2. Increased Safety
If you are building an outdoor pizza oven for the first time, the possibilities of accidents happening become higher. The danger involved is one of the reasons DIY kits are found to be safer options. The kits contain all the components and instructions on safely setting up your pizza oven.
3. Time Savings
DIY projects can be very time-consuming, especially if you are building from scratch and need to become more familiar with how much each stage takes. However, masonry pizza oven kits are ready to use and built to perfection. In other words, you'll spend time building the oven instead of figuring out where to start and how to proceed.
4. Lower Cost
Generally, using a pizza oven kit is more cost effective than buying all the materials and tools. Oven kits have all the ready-made pizza oven components required to build your oven. In addition, the converted blaze inside the kits is perfect for bringing out your wood-fired pizza game.
Which Is Best for Your Backyard Pizza Oven: Wood or Gas-Fired?
Image Credits: homeserve.com
A true Neopolitan will tell you that true pizza is the wood-fired pizza and no other. Nonetheless, a gas-fired oven will still offer a tasty DIY pizza without the hustle of having to tend to a fire. The key to deciding between wood-fired pizza and gas-fired ovens is remaining realistic to your needs and convenience.
Consider the kind of parties you host and how busy it gets; let that determine what you settle for. And if you are still undecided, why not check out a comprehensive comparison of gas vs. wood pizza ovens to help you make the final choice?
Alternative to Building a Backyard Pizza Oven: Installing a Prefabricated Brick Oven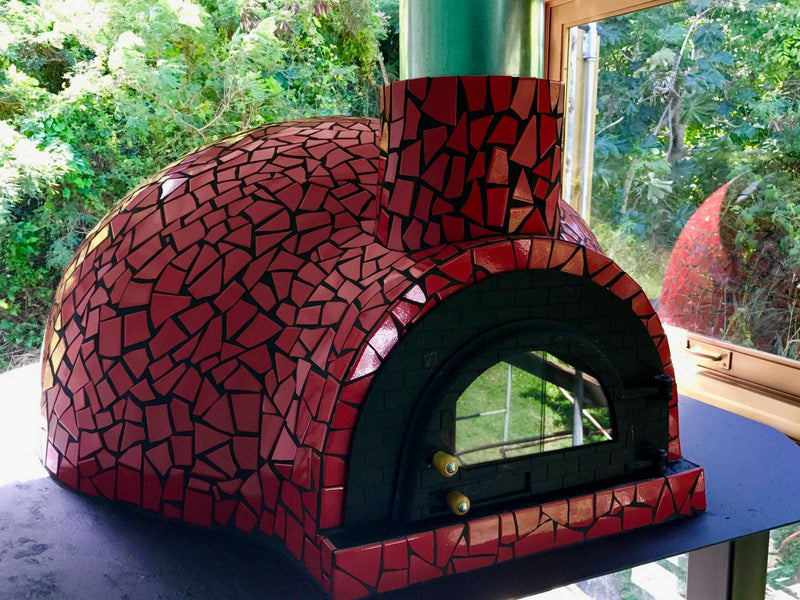 Image Credits: pinterest.com
You might want a backyard wood-fired pizza oven but prefer something other than DIY projects. The good news is there are suitable options, such as using a prefabricated brick oven. And just because you have not opted for a DIY pizza oven doesn't mean it's cheating! You will still need to consider the location, build a steady foundation and ensure it blends well with your home.
There are a lot of people who enjoy their own pizza made fresh and hot from a prefabricated pizza oven. All you have to do is buy one that suits your needs and expectations. Take your time to pick out what you want from the top best wood pizza ovens, and enjoy your pizza without the hustle of DIY projects.
Conclusion
Your pizza oven can be very rewarding, especially when using the cooking compartment. Whether you want to build an outdoor pizza oven on your backyard patio or as an addition to your outdoor kitchen, a DIY pizza oven is very handy. In addition, having your pizza oven can be beneficial as a showpiece for your home and a great part of entertaining guests.
While building an outdoor pizza oven is difficult, a pizza oven tutorial or detailed instructions can help you kick-start a great DIY project.
Featured Image Credits: hgtv.com