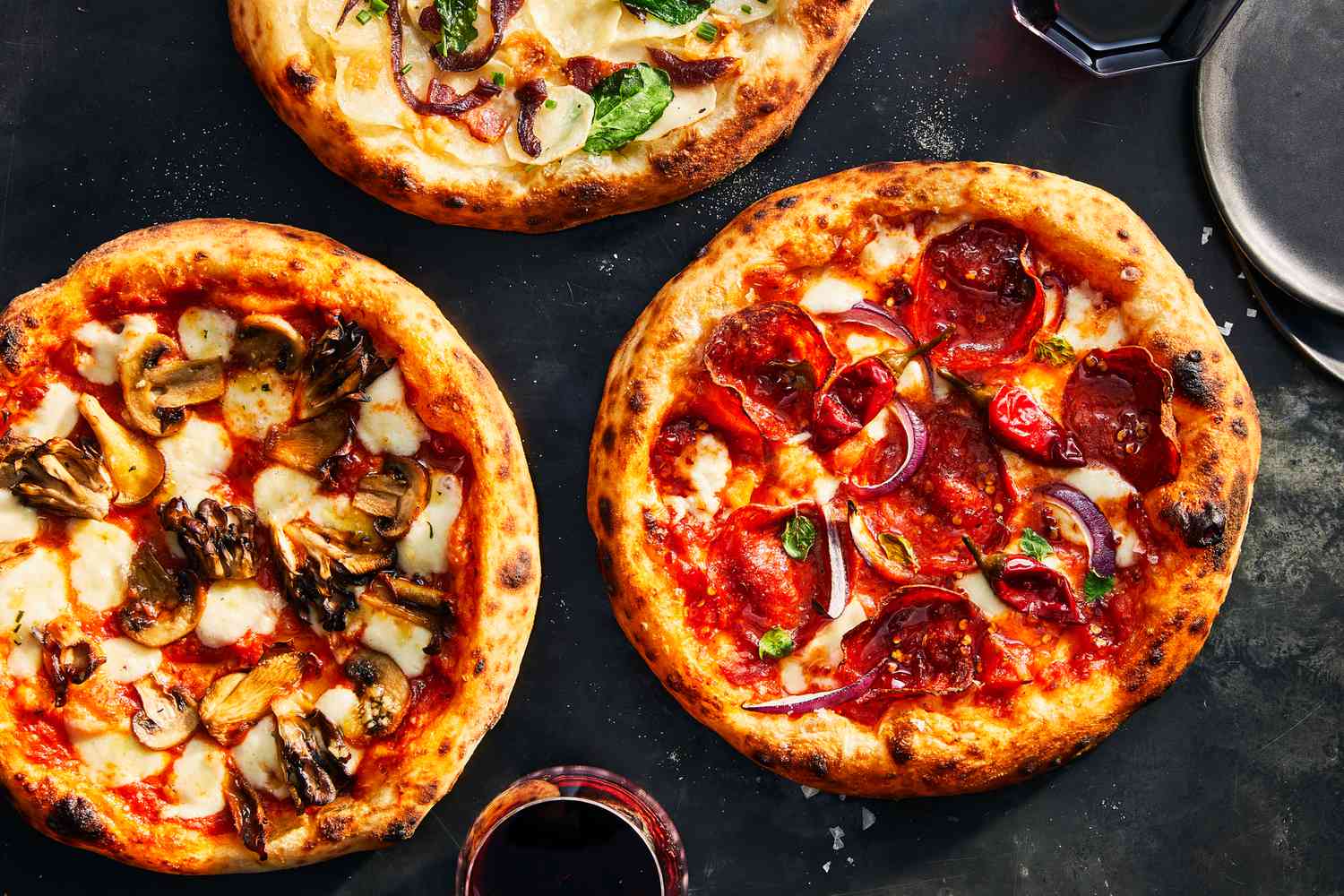 Do you not just love it when you can combine the finest aspects of two worlds? Not only does seafood taste excellent as a pizza topping, but it also tastes great in salads and, when coupled with bechamel sauce, produces a fantastic seafood appetizer.
So are you looking to turn your pizza night into a seafood celebration for your family and friends? Many seafood pizza recipes will be exciting enough for a party and delicious enough for your family to enjoy. Plus, you will relish our list if you are a pizza and seafood lover.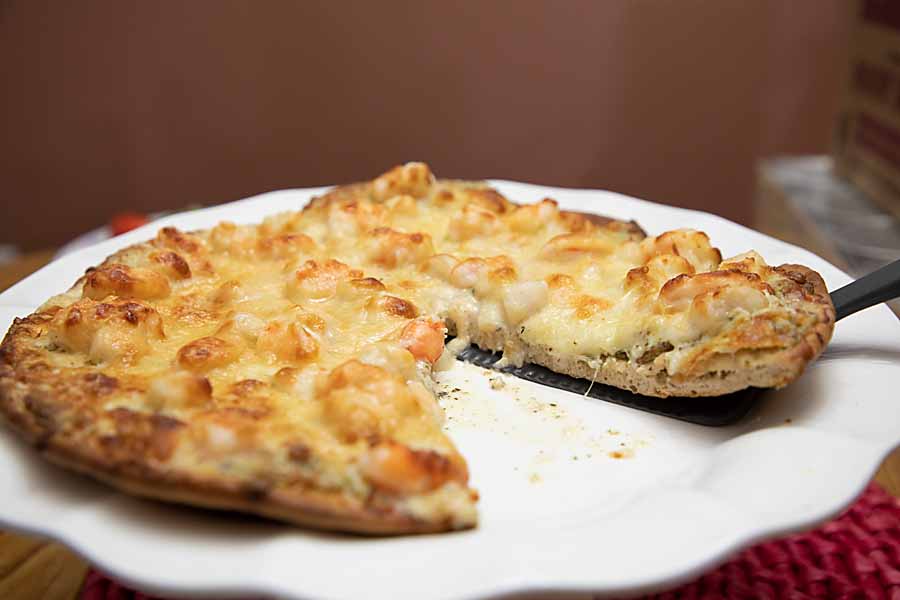 Image Credit: artofnaturalliving.com
This should be your top choice if you want the best seafood pizza recipe to pair with your glass of white wine.
The delicate aromas of the shrimp and scallops are supported perfectly by a creamy bechamel pizza sauce. The addition of fresh thyme and roasted garlic enhances every slice.
The best part is that you can use pre-made pizza dough to simplify this recipe.
Image Credit: winemag.com
This calamari and chorizo pizza recipe is another top choice if you are looking little culinary adventure to give you a sensational taste.
The tender calamari rings and the hearty, spicily flavored chorizo sausage go together beautifully. They taste great when covered with mozzarella cheese and on crispy pizza dough.
A crisp, fresh salad or roasted vegetables go well with this delicious pizza, and your dinner is set.
Image Credit: pinterest.com
Are you having a Holiday party soon? Make this cheerful Festive seafood pizza. There are tons of scallops, shrimp, and smoked salmon in it. Instead of marinara, the puff pastry crust is covered in a rich, delicious milk sauce and a ton of delicious cheese.
Give your guests this gooey, buttery seafood pizza and a crisp green salad for a delicious dinner. Additionally, you may cut it into smaller squares and serve it as an entertaining appetizer.
Image Credit: foodchannel.com.au
Smoked salmon and avocado pizza is one of the most delicious recipes, which gives you a great taste, although it doesn't sound like it.
The pizza base for this pizza is perfect for cream cheese, garlic, and dill and you will love generously spreading it on your pizza crust.
Add cheese, arugula, smoked salmon, onion, and avocado as the seafood pizza toppings. As a finishing touch, add some lemon pepper seasoning.
This pizza with garlic shrimp will not disappoint garlic connoisseurs! It almost makes you want to drool.
Tender shrimp, oil, garlic, lemon zest, and three kinds of melted cheese are added to a handmade crust once you spread pizza sauce.
Add some freshly chopped parsley and red pepper flakes to the top of your pizza to complete it and give it perfection.
Image Credit: bula865-images.blogspot.com
The Neapolitan pizza, also known as pizza Napoli, is another traditional Italian pizza that will have your taste buds dancing with joy.
The crunch and flavor produced by the woodfire oven make all the difference, even if it is just a crust topped with anchovies, capers, fresh basil leaves, dry oregano, cherry tomatoes, and a drizzle of olive oil.
Ensure that the seafood mixture cools down before adding it to the pizza dough. Then, you won't turn back once you've adopted the Neapolitan lifestyle.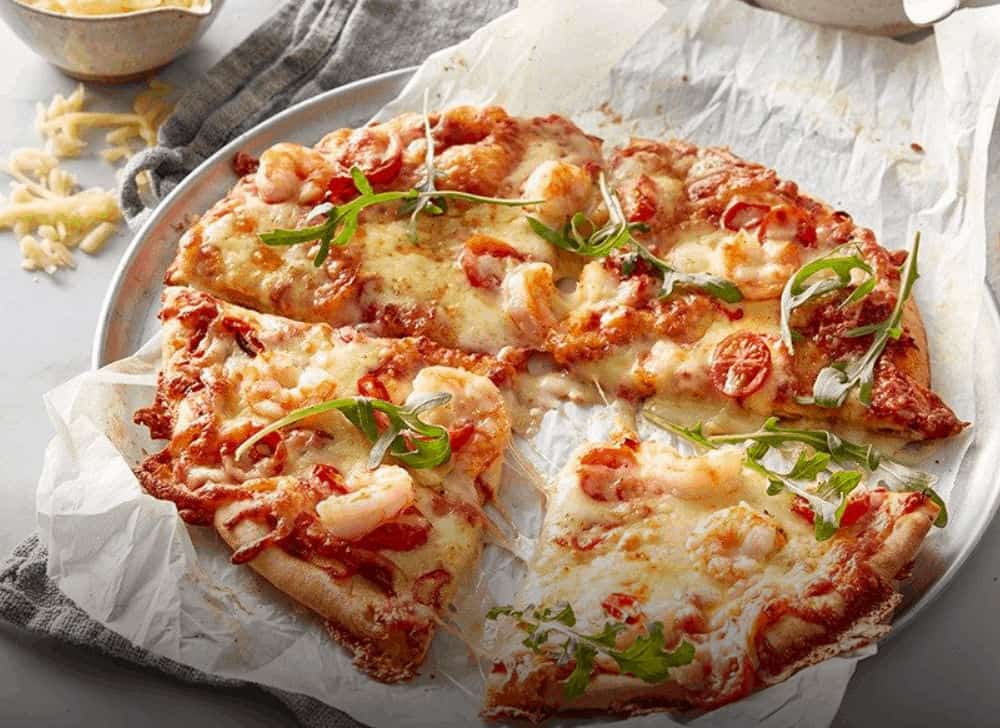 Image Credit: bacinos.com
The chili prawn pizza is a crowd-pleaser topped with medium king prawns, tomato slices, chile, and baby rocket coated in lemon juice and olive oil. To get a thin, crispy pizza base, place the pizza crust in the pizza pan before adding the toppings.
If you fancy, season the dish with garlic and add some shredded buffalo mozzarella cheese; you won't be able to stop after just one bite.
Image Credit: boboli.com
Do you have a shrimp Alfredo addictive craving? Then you must try this pizza with shrimp Alfredo! It has the same creamy, luscious texture as your favorite pasta but with the added benefit of a crunchy and crisp pizza crust.
In addition, it's one of the recipes which includes the creamy Alfredo sauce, and it's applied to the pizza dough. Furthermore, it has a generous amount of spinach, tomatoes, shrimp, and mozzarella cheese to give pure excellence in food.
Image Credit: chefirvine.com
Pizza with smoked salmon is delicious as an appetizer or a light supper. You can make it quickly; each bite is typically wholesome and satisfying.
The crunchy crust, delectable chunks of smoked salmon, creamy cheese, onion, and capers on top create the mouth-watering flavor. It's also ideal for late-night snacks, lunch, and dinner.
Image Credit: closetcooking.com
You must try this shrimp scampi pizza if you enjoy both pizza and scampi. It is quite delicious. And the preparation time is only 30 minutes, and for busy bees, that's great news.
Making your pizzas gives you total control, which is fantastic. Also, if you enjoy cheese, add whichever much you'd like since there are no boundaries.
Image Credit: abullseyeview.com
Want some spicy meal? Make this spicy and sweet shrimp pizza. It's a fantastic twist on peanut sauce with Thai shrimp satay.
The Thai taste of shrimp satay is excellently encapsulated in this sweet and spicily pizza with shrimp.
Lots of spicy shrimp, scallions, peanuts, and two different types of cheese are added to the pizza as toppings.
Image Credit: bestfoods.co.nz
Are you having a barbecue with some friends? Then, pizza with garlic prawns should be on your food menu. Olive oils, mozzarella, prawns, tomato paste, paprika, garlic, and mayonnaise, are all the ingredients you need.
Put them on your crispy, grill-cooked pizza foundation to spruce it up. Before cooking the prawns to perfection, add flavor by drizzling them with delectable chile and lemon oil.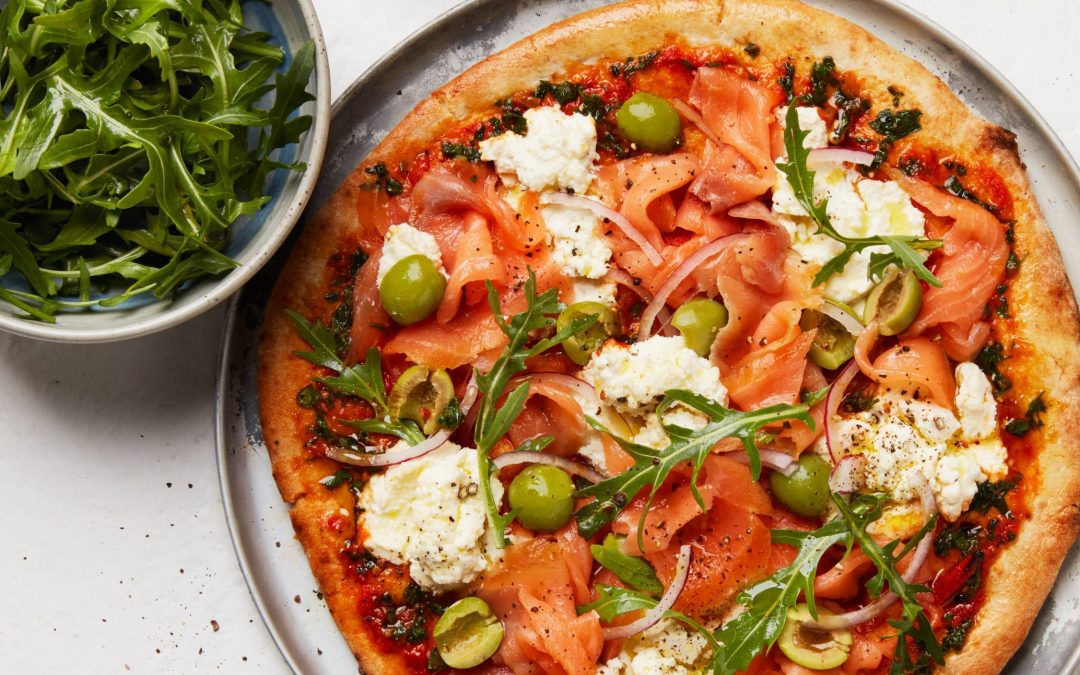 Image Credit: greataustralianseafood.com.au
You can make one of the tastiest pizzas by lightening it up with ingredients like salmon fillet, rose sauce, roasted red onions, capers, and lemon.
Add Italian parmesan and chopped dill to the pizza dough to make the pizza even more delicious. After cooking, top with julienned capsicum and serve with a wedge of lemon.
Image Credit: whealthyhouse.com
If you are a seafood pizza lover, you will enjoy this Alfredo seafood pizza recipe mainly because it's irresistible and takes only a few minutes before it cooks.
The pizza is made indescribably delicious by the sautéed shrimp and crab shells that have been whipped in cream. To add flavor, sprinkle on some grated parmesan and mozzarella cheese and season with garlic. Bake until golden brown. The entire process will be finished in twenty minutes.
Image Credit: delmarvalife.com
This Maryland crab pizza is something you must prepare if you love the flavor of crab meat. The full meaty flavor of the crab is on full display.
Ricotta, mozzarella cheese, pecorino, crab meat, and seasonings are layered on top of premade pizza dough. Canned crab flesh is okay if you cannot obtain fresh Maryland crab.
Make certain you purchase a can from a reliable provider, as the taste improves with higher-quality products.
Image Credit: eatsmarter.com
Looking for a quick snack to get your kids licking their fingers after they come from school? Try this three-cheese tuna pizza full of cream cheese, mozzarella cheese, goat cheese, and tomato sauce.
Three cheese tuna pizza is a healthy yet delicious snack that makes a great lunchtime snack. You only need a few ingredients, and within thirty minutes of your time, it will be in your oven rack cooling.
Image Credit: izzycooking.com
Anchovies are a traditional pizza topping, whether you like them or not. But maybe you haven't eaten a pizza that tastes this wonderful if you're not the biggest anchovies enthusiast!
Anchovies, in my opinion, are completely underappreciated with a salty, fatty, and umami flavor. However, they are excellent on pizza; you should try this recipe for a new flavor.
Add some Kalamata olives, red onion, and crushed red pepper to your anchovies pizza as excellent pizza toppings.
Image Credit: cooking.nytimes.com
You are transported to a Provence seaside town with only one mouthful of this delicious Mussel pizza. Begin by cleaning and examining each mussel individually, carefully removing those with open or damaged shells.
The pizza dressing should contain white onions, green peppers, and purple onions. Put it in the oven for twenty minutes, then top it with cheese and fresh parsley.
Image Credit: reddit.com
This creamy, flavor-filled pizza is a must-try for lobster lovers and tastes incredibly good. In addition, the prep time is short; it takes twenty minutes to prepare and is excellent as a main meal or snack.
The lobster pizza is a delicious way to include a hint of the sea into your pizza thanks to adding a thick layer of whipping cream, a combination of Parmesan and Italian cheese, and a drizzle of liquid shrimp and crab boil.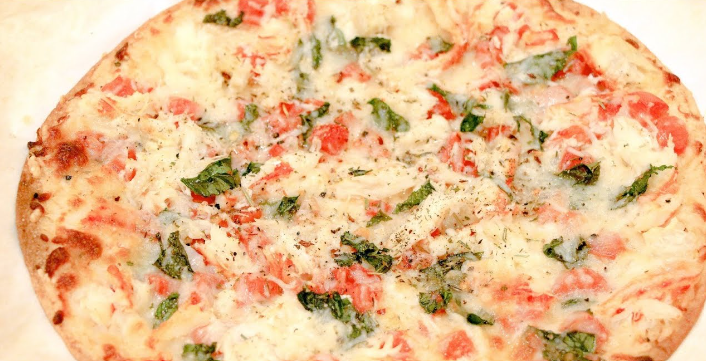 Image Credit: youtube.com
Before we are done, we must mention this four-minute king crab legs pizza dish. Anyone who doesn't want to spend much time in the kitchen will love this seafood pizza recipe.
Not only are the crab legs delectable, but they also give you the impression that you are eating right from Red Lobster because they are covered in parmesan and Italian cheese, garlic, pepper, and fresh basil leaves.
Image Credit: raddcooking.com
Is there a way to enjoy scallops and shrimp than as a pizza topping? This sophisticated shrimp and scallop pizza will dazzle your family or dinner guests; no takeout can compare to this.
Your pizza base can be pre-baked flatbread or make the base from scratch with fresh pizza dough.
Goat and mozzarella cheese work so nicely together with scallops and shrimp. Together with shredded mozzarella and fresh basil leaves, this classy pizza recipe stands out.
Use this recipe and watch how quickly the pizza slices disappear after serving and how many compliments you will get.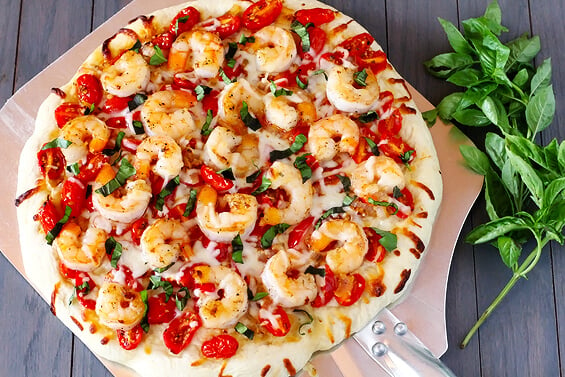 Image Credit: gimmesomeoven.com
This shrimp, Fra Diavolo pizza, is a favorite among spice enthusiasts. The level of spice is entirely up to you. It takes little time at all to make this tasty, spicy pizza.
The best pizza base without sauce is made with grape tomatoes and crushed red pepper flakes cooked in white wine. Even right out of the pizza pan, those sauteed tomatoes are delectable! But on this pizza, they're even more delicious.
Image Credit: everydayannie.com
This Cajun shrimp pizza is a wonderful blend of flavors. Cajun shrimp, bacon, peppers, and creamy feta cheese are spread on top of naan bread.
It not only tastes fantastic, but it also has a gorgeous appearance. In addition, the combination of vibrant ingredients is quite appealing.
For a tasty starter, cut this pizza into little squares. It will be a big hit with your family and friends!
Image Credit: flickr.com
The flavors that never fail with a squid pizza are crushed red pepper, creamy saffron aioli, and salty, sweet roasted squid. This is the dish to make if you want something that will cook quickly because it just needs five minutes to prepare.
If any aioli remains after creating your pizza, don't worry; you can use it as a sandwich spread or a vegetable dip.
Image Credit: pinterest.com
Pizza night can be changed by bringing something extra-special to the table. For example, make a pizza with bacon, shrimp, and lettuce. It may be wonderful to try out different fun toppings, which is a combination of shrimp, bacon, garlic, Parmesan, and Caesar dressing is quite incredible.
Making your pizza crust does need some additional time. However, if speed is of the essence, you can always choose a store-bought pizza crust.
Conclusion on Seafood Pizza Recipes
We have listed the best recipes to introduce you to new flavors, fresh takes, and creative ways to create food to bring everyone around your dining table. We hope you will fancy one or four of our seafood recipes listed above and try them out with your family and friends.
Featured Image Credit: bettycrocker.com