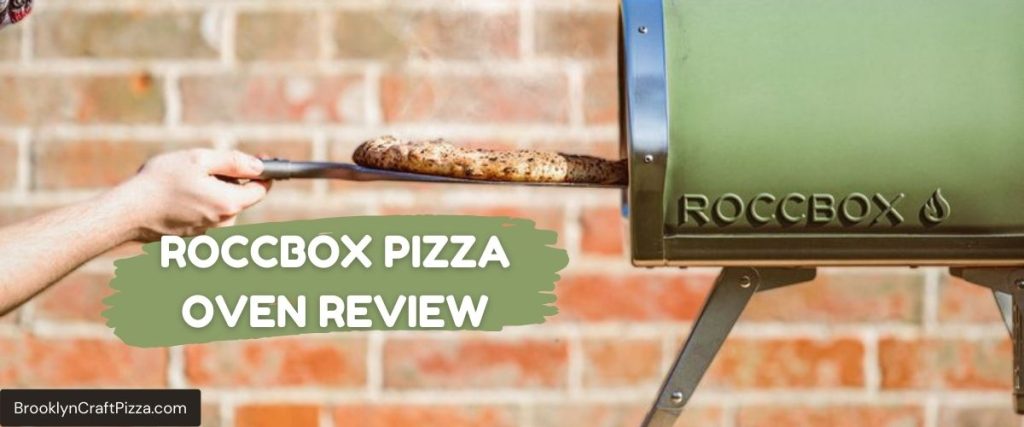 â¤ï¸ Roccbox Pizza Oven Review: My Personal Opinion
What I like about the Roccbox pizza oven is how portable it can be. The heavy-duty, foldable legs give me great support when cooking pizzas at home or on vacation!
The Gozney personal pie maker mimics traditional crust quality with its gas burner and even heating capabilities- Something you won't find in most other models available today.
As a pizza lover, nothing excites me more than being able to make my own pizza at home.
And with Roccbox, the world's first portable propane gas pizza oven with a detachable wood burner as an additional accessory, making pizzas has never been easier.
Read on for my unbiased Roccbox Pizza Oven Review, including its pros, cons, and key features.
Trust me; you'll be itching to get your hands on one by the end of this post!
Our Opinion on Roccbox Pizza Oven Review
Gozney Roccbox is the premium portable outdoor pizza oven that reaches high temperatures of over 932ºF.
This gives you the perfect balance of a thin base with a perfectly puffed-up, charred artisan crust in just 60 seconds.
It comes ready to go with an inbuilt thermometer, retractable legs, and detachable dual-fuel burners.
Roccbox is easy to transport and set up – click the switch and start cooking!
You have the convenience of Gas and the tradition of wood fire with Gozney Roccbox. It comes complete with a gas burner as standard and the option to buy a detachable wood burner as an additional accessory.
Bring the party with you wherever you go with the ROCCBOX by Gozney Portable Outdoor Pizza Oven.
With its safe touch body insulation and outer silicone skin, Roccbox is the family-friendly option, reducing the danger of skin burns, a feature of metal-bodied ovens.
Roccbox is also rated the No. 1 outdoor stand-alone pizza oven by Serious Eats, making it the perfect choice for any outdoor gathering or party.
Whether you're cooking for a large group or just a few friends, the ROCCBOX by Gozney Portable Outdoor Pizza Oven is perfect for any occasion.
So grab your friends and family and enjoy a delicious pizza made in the Roccbox by Gozney Portable Outdoor Pizza Oven.
Roccbox Pizza Oven Review: Pros & Cons
Why we love it
Roccbox pizza oven has heavy-duty, foldable legs that give good support and create this portability, which I like.
The Roccbox oven is a personal pizza maker that mimics the crust quality of traditional, commercial pizza makers.
You'll love how easy and lightweight the Roccbox is. Thanks to its portability, dual fuel capabilities (but gas burns cleaner), and durable design that doesn't tip over even in high winds or rainstorms, it can easily go anywhere.
The Gozney Roccbox is great for fast and delicious Italian-style pizzas.
The oven is compact but cooks evenly and retains heat well. The outside does get hot to the touch, but the silicon covering protects users from burns.
Super easy to use, great for any party, and not hard to clean.
Things need to be improved
The only downside is the size, making it difficult to cook and clean.
Gozney should have a wider choice for us, like a 16-inch pizza oven.
For more references: Best pizza oven in 2023
Check Latest Price on Amazon
Editor's Note: The Gozney Roccbox pizza oven review was last updated on September 27, 2023. We've added some tips to who we recommend this product too and better comparisons between similar models!
Roccbox Pizza Oven review: First Impression
When you open the shipping box, it comes with the Roccbox and the gas burner; the Wood-fire attachment comes separately.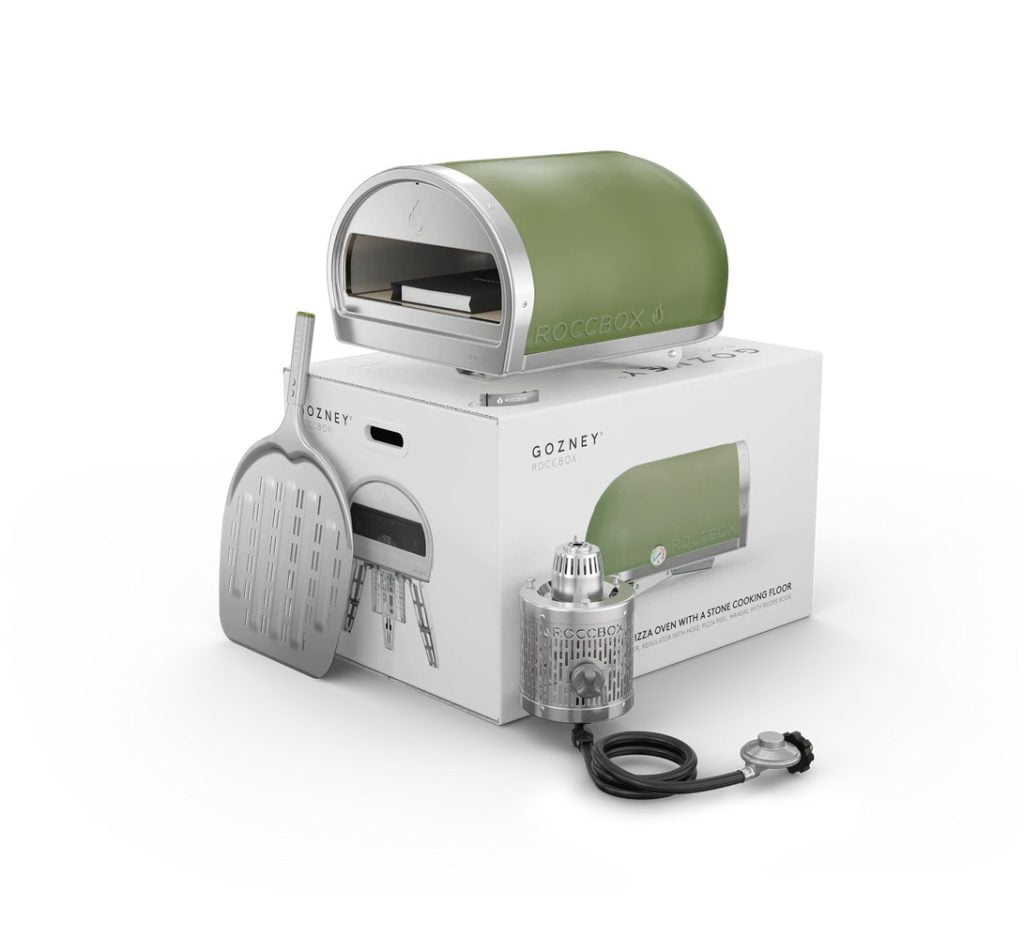 I like how nicely everything is packaged when you open the Roccbox package. You first see some pamphlets, a recipe book, a bottle opener, and the pizza peel that they provide. It's light, but it's sturdy, and it fits in the oven perfectly.
The only other thing in the box is the Roccbox itself, and I love how it comes with this perfect little velcro grip to allow you to move it around and get it out of the box.
Pro tips from Testers
"You need to have a sturdy table that you want to place the Roccbox on, which is definitely recommended."
Deep dive into analyzing its performance in actual pizza cooking
Now, we wanted to dive into how well the Roccbox oven performs in real pizza cooking conditions so that then we can make a realistic assessment for this Roccbox pizza oven review article.
We'll take a look at the temperature profile, how evenly the heat is distributed, and how much fuel is needed to cook a pizza. Stay tuned for our findings!
Favorite Accessories
My favorite peel goes with the Roccbox, which is the Gozney Roccbox, a 7-inch turning peel.
I use that accessory to cook in this oven, and I have done it since the beginning, I think yeah. I use the wooden peel, my wooden 11-inch pizza peel. I use that to launch.
I have a post on the tools that I use for this pizza oven in the link. And I've used them from day one, and I'm still using them now, so they've lasted me a good two years, and the quality is as good as it was back then.
Ideal Stone Temperature
Once you've got the Roccbox's stone hot, it's very easy to cook pizza one after another.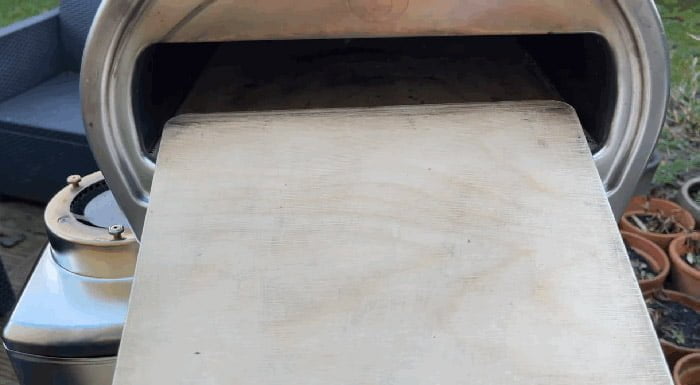 So the oven temperature is 400 on the stone, maybe 410 around that, not lower than 400; make sure it's a bit up.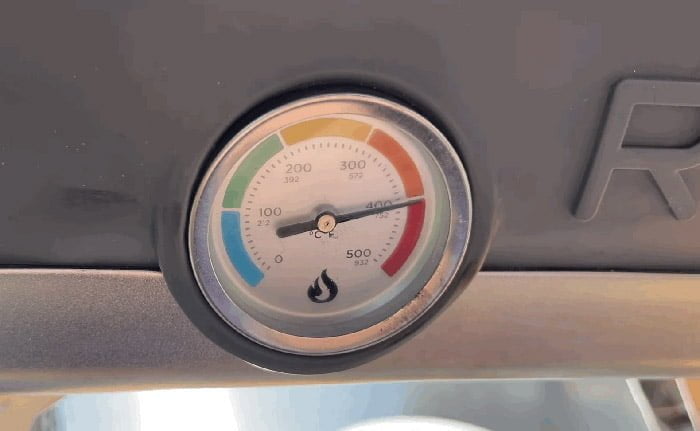 So 400 to 420 on the stone dial and put it on full, and you're good to go.
Gas Flame
The flame is just so easy to manage. I cook in the Roccbox on full flame.
It's straightforward to get your ideal setting for cooking with the Roccbox pizza oven using the gas burner.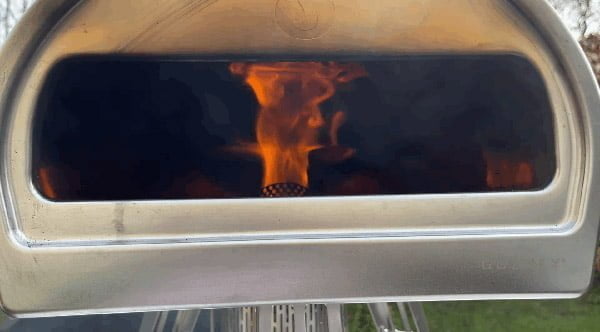 The pizza can go right up to the burner at the back, and then the flame goes up and then over the pizza, rather than bouncing straight onto the crust.
It's been designed well, and it's great for beginners, but it's also great for all levels. It's perfect if you are starting off.
Wood Burner
So the Gas is my favorite fuel for the Roccbox and has been for the last two years.
I do use the wood burner on there, which is good once you've heated the oven up with the gas burner.
But once you've heated up with the Gas and put down the wood in the wood burner, you can cook a nice pizza with a wood burner on the back.
I've got both versions of the wood burner version, one and two. Once the gas burners heat up the pizza oven, it does an excellent job.
Appearance
I think the structure of the oven is the same as when I first used it. There's no change.
It's solid. The stone hasn't changed, it just got a bit more debris staining on there, but that burns off with a gas-fired burner, and I give it a little brush to clean it.
The silicone on the outside hasn't changed; just give that a bit of a wipe, very rarely.
Though, that oven is such a good quality build. It's professional, great oven other than my cooking stains inside. It's like new. It's looking really good. I'm very pleased with the structure of the oven.
Gas Burner
The gas burner is working perfectly. The dial hasn't changed; that's still igniting well; I don't have any issues with that.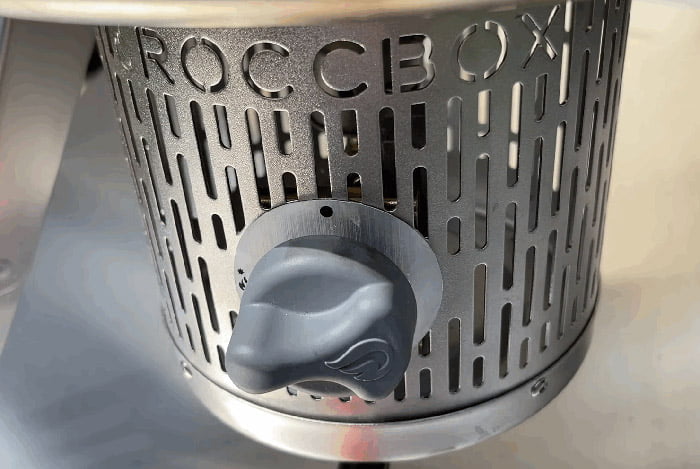 I've never had any issues with the ignition; it is perfect: quality ignition dial on the Roccbox, still working like new. It's got good minor to significant flame adjustments.
Pro tips from Testers
"Here's a lesson in propane tank safety; attach the Roccbox gas burner valve to the propane tank and close it up as tightly as you can.
Then open the propane tank and spray or brush soapy water over the valve connection on both the tank and the Roccbox.
If there is a leak or anything isn't attached, properly bubbles will start to form indicating Something is wrong, and you need not to proceed until that is fixed."
Related post: Best Propane Pizza Oven Worth To Buy In 2022
Keeping it clean
So to keep it clean, I'm not like fastidiously cleaning my ovens after every cook. In fact, I don't.
I give my clean after every five cooks.
When I say clean, I get my little brush out and wipe the outer structure.
I hardly ever touch the stone really inside cleaning it, and I never touch the inside with a cloth or anything.
I never had to clean the inside of the oven. Maybe I should be, but I can't see why I need to because everything burns off.
Heat Up Time
It does take a bit longer to heat up than the other pizza ovens I've got, but that's only because it's so solid I'd say not much longer.
I'd say about 10 minutes longer than the other ovens because it's so well built, and it's got a lot more to heat up.
But once it's hot, the temperature takes longer to go down. If you're making pizza one after the other, it's ideal.
Weight
I've got used to carrying it now. There's like a technique: I put my hand in through the front and take my other hand underneath the back and pull it against my stomach, and I'm carrying it that way.
It has got a carrying strap so that you could use that, but I think my technique where I grab it that way is just as easy as the carrying strap.
Except for the carrying strap that it comes with, you don't get as muddy. Don't get much such new with the carrying strap.
I get covered insert because my arms are going everywhere all over the oven the way I do it.
Check Latest Price on Amazon
How easy it is for Setting Up The Gozney Roccbox
The Roccbox pizza oven is so easy to set up that it can be done in minutes. All you need is a level surface to place the oven on, and you're good to go!
The Gozney Roccbox pizza oven is ready and straightforward to use straightaway. There is no assembly needed – unfold the retractable legs and attach your gas burner with a quick 'click'.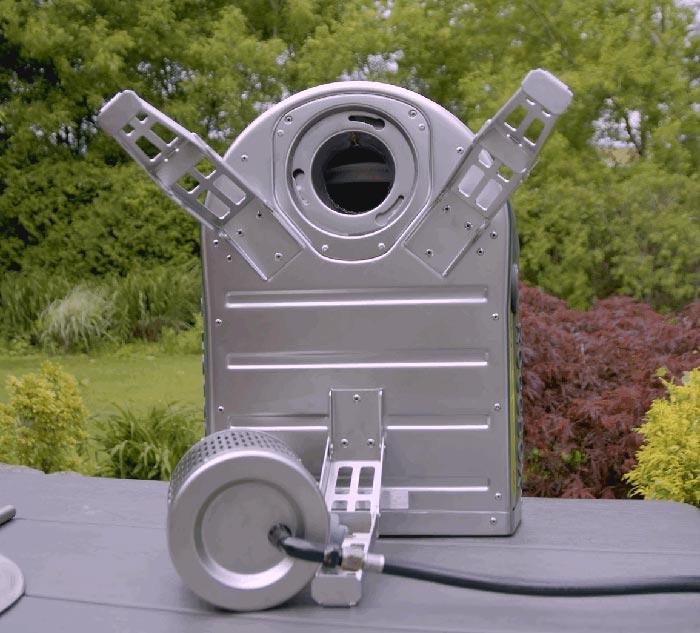 The Gozney Roccbox pizza oven is perfect for indoor and outdoor use, so you can enjoy delicious pizzas.
With a Gozney Roccbox pizza oven, you can cook pizzas in just 60 seconds, so you'll never have to wait long for a delicious slice.
Whether you're entertaining friends or family, the Gozney Roccbox pizza oven will be a hit.
Top 8 tips to help you get the most out of your Roccbox Gozney pizza oven
If you're looking to get the most out of your Roccbox Gozney pizza oven review, follow these top 10 tips. With just a little bit of practice, you'll be churning out perfect pizzas every time!
Cooking More Than One Pizza
This pizza oven cooks pizza well, one after the other.
I like to leave the gas burner on a medium flame to keep the oven hot, and I've done that on low and give it a burst of high flame when you need it.
Let it tick along so when I go off, I make my pizza, and I can disappear for about 25 minutes and come back; the stone will be warm enough for me to cook pizza on.
Easy to Use
This oven is very easy to use. I think that's because of how the flame comes up; it doesn't push directly against the crust.
It comes up and over the flame is, landing on the pizza in the right place without burning it.
And that's a huge plus when I use this oven, saying that. It also cooks the pizza quickly, so you've got the benefits of both.
I would say that this pizza oven is great for beginners; it's very easy to use.
Cleaning the Oven
When I clean this oven, all I do is wipe away the soot on the front.
When I use the wood burner and I use a little brush to clean the stone, the stone isn't removable. So I do when I need to brush any excess debris off, but I have to say that most of it burn off anyway with the gas burner.
Using Both Burners
If you plan to use the gas burner and the wood burner on the same day, I would use the gas burner first and then put the wood burner on, so the gas burner will heat your oven up.
Then you can take that off because it's cool at the bottom. It's easy to do.
Unscrew it
Place the wood burner on
Fill that up, and you're good to go to get a wood-fired cook.
It's as simple as that.
And the one thing about the burners at the back is there's very little mess.
It's all contained within that burner, and they're easy to unscrew on and off and swap over.
Use the In-Built Thermometer
I use the stone dial a lot. I don't use a digital laser thermometer with this oven; I don't need to.
So what I do is I can get the stone up with the gas burner to about 400 degrees on the side once it's there, I know that I can cook lots of pizza, and It will maintain that temperature.
I think the handy thing about that temperature gauge is that it's so good to monitor your heat, it also measures the heat at the base of the stone rather than the top of the stone. It's a nice addition to this oven, and it's convenient.
Cook on Full Gas Flame
When I use this oven, I always have the flame on full Gas. I don't cook at three-quarters flame or low; it's always on full.
Because the gas burner is placed well inside this oven and I can confidentially move my pizza around, even up close to it, to get an excellent fast cook.
Wood Burner
When using the wood burner, make sure that the grate is always topped up to maintain that flame.
So you will have to ensure that before you cook, that grate is full of wood.
Because you don't want to be going back and forth while your pizza is cooking, fill up that grate, so make sure the grate is full.
Always have funs with it.
My final tip is that this is a great oven for cooking pizza for beginners and experienced cooks alike.
Great fun to use that's the biggest tip is to have fun with your pizza, cooking, best advice.
FAQs about Roccbox Pizza Oven Review
Is the gozney good?
The gozney is great! The pizzas came out perfectly cooked with a nice, crispy crust.
Where are Roccbox pizza ovens made?
Gozney Roccbox is manufactured in China.
Can the Roccbox be used to cook anything else?
The Roccbox can be used to cook a variety of foods – not just pizzas! You can use it to make cookies, calzones, flatbreads, and more.
Is the Roccbox easy to use?
The Roccbox is very easy to use – there is no assembly required and it's ready to go right out of the box. Simply plug it in, set the temperature, and start cooking!
What type of warranty does Roccbox offer?
Roccbox offers a 5-year warranty on all their pizza ovens.
Is a Roccbox worth it?
A Roccbox is definitely worth the investment – you'll be able to cook delicious, homemade pizzas in no time at all. Plus, the Roccbox can also be used to cook other types of food, so it's a great all-in-one appliance.
How long does it take to cook a pizza in Roccbox?
It takes about 1-2 minutes to cook a pizza in the Roccbox after 20-30 mins for heating up.
What else can I cook in a Roccbox?
Pizzas are not the only thing you can cook in a Roccbox! You can also cook calzones, flatbreads, cookies, and more.
How do you cook with a Roccbox pizza oven?
Cooking with a Roccbox is easy – there is no assembly required and it's ready to go right out of the box. Simply plug it in, set the temperature, and start cooking!
Can you use pellets in Roccbox?
Yes, you can use pellets in Roccbox. You will need to purchase the Roccbox Pellet Conversion Kit to do so.
How long does the Roccbox take to heat up?
It takes about 20-30 minutes for the Roccbox to heat up.
Is Roccbox waterproof?
Made from tough, water-resistant material the cover will keep your items safe in even bad weather.
Can you use Roccbox inside?
The oven is great for cooking, but you need to make sure not use it indoors. The garage works well with the door open when British weather dictates! I just had a quick measure and sketch done by my designer friend MIBart showing how much space this will take up in your kitchen–should be fine if its close enough assemble-wise 😉
Final Verdict: Should You Buy it?
Overall then, I feel that this oven, the Roccbox pizza oven, is a solid oven.
After two years of use, it's still cooking my pizza like new.
It's a perfect all-around oven. I think the build of it is sturdy, and strong. It has excellent construction, is very well engineered and designed. It looks new on the outside.
The gas burner is like new nothing's failed on it. I expect years of use from it going forward.
I've enjoyed using it, but I'm still enjoying using it.
I hope they bring out a bigger version of it, like a 16-inch version of the Roccbox. that would be a good oven to try out. I would like to see something like that, like a portable 16-inch version of the Roccbox.
This is the best pizza oven I have ever used. It's so easy to use and cook your food in it, even if you don't own a peel!
You can get wood or propane fired up quickly before cooking perfect pizzas from scratch with the first try, which would rival any trattoria-style restaurant – flawless quality every time.
The design of this thing nails everything for me- not just because it's portable but also how safe they are on both sides while being large enough that there won't be too much stacking when storing them away after usage.
Hope you enjoy this unbiased Roccbox Pizza Oven Review from my experience and make a suitable choice for your next purchase. Let me know if there is anything I can help!
Check Latest Price for Roccbox Pizza Oven
Helpful resource: Outdoor Cooking Recipes by Gozney Roccbox
---
Further Reading