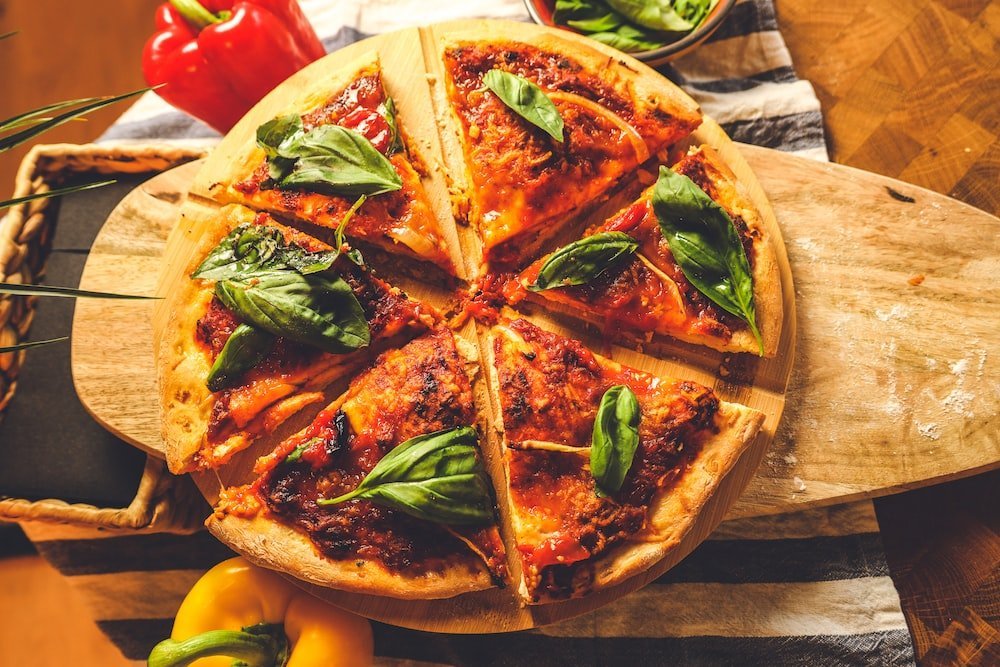 Do you like making pizza and want to try new healthy pizza recipes? Our article compiles 5 best cheeseless pizza recipes you can try at home. This is the right page if you wonder whether pizza without cheese is tasty.
So, whether you are lactose intolerant or do not have cheese to top your pizza, you can still enjoy your meal. Let's get into the article.
Delicious Vegan Pizza Recipes
A vegan pizza contains no dairy products. Instead, it comprises the dough, garnishes, and sauce. The toppings are where you need to focus while following the pizza without cheese recipe.
If you are a vegetarian and are tired of using vegan cheese or do not eat cheese pizza, you can try out the recipes below and enjoy them.
1. Vegan White Pizza Recipe With Artichoke Tofu Ricotta and Roasted Garlic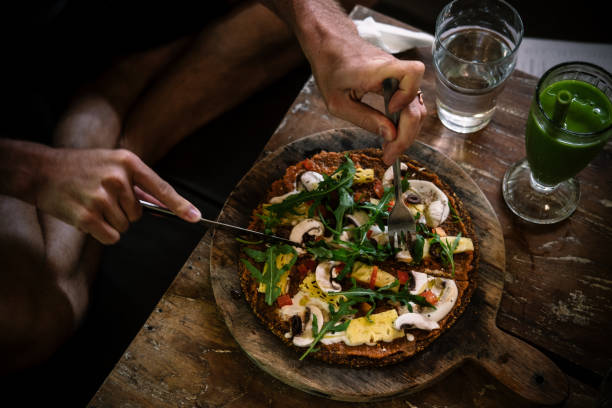 Ingredients
Roasted garlic
One teaspoon of oil
One large head of unpeeled garlic
One teaspoon of salt, plus more to taste
Tofu Ricotta and artichokes
One cup of (8 ounces) artichoke hearts that have been packed in olive oil (retain the oil)
One (14-ounce) package of firm or extra-firm tofu, drained
One-half of a teaspoon of freshly ground black pepper
One teaspoon of coarsely minced lemon zest
For the Pizza
One-and-a-half cups of artichoke tofu ricotta (recipe above)
Half-cup fresh basil leaves in Chiffonade-cut portions
One teaspoon and one tablespoon of Olive oil, split
Half a cup of fresh flat-leaf parsley finely chopped
One tablespoon of Semolina flour or cornmeal
One teaspoon of crushed Red pepper flakes
One teaspoon of finely grated Lemon zest
One lb. of herb-flecked pizza dough.
One teaspoon of coarse sea salt
Instructions
Turn your oven to 400 degrees, then spread the trimmed garlic with oil on a piece of aluminum foil.
Wrap the garlic loosely in foil and roast for about 45 minutes or until the cloves are golden and tender.
Whip the pureed artichokes, then mix the tofu, zest, salt, oil, and pepper in a food processor.
Mix the tofu ricotta and parsley thoroughly in a medium basin.
Raise the oven's temperature to 500 degrees.
Dust your work area with a combination made from all-purpose flour or cornmeal in a small bowl.
Take a piece of the dough and move it around in your hands to make a loose ball.
Put the dough on a floured board and gently press it into a disk.
Roll the dough carefully with a rolling pin until it is round and approximately 14 inches wide.
Create a 1-inch border by folding the herbed dough to form a few crispy edges.
Spread the tofu ricotta over the dough in an equal layer by using the back of a spoon or an offset spatula.
Place the roasted garlic on top, followed by the lemon zest.
Brush the crimped border of the dough with a tablespoon of olive oil.
Sprinkle some sea salt and fresh basil all over the dough.
Slide the flatbread onto a rimmed baking sheet, then transfer it to a hot sheet pan.
Bake for 12 minutes in the best propane pizza oven until the crust is golden and puffy and the top is bubbling.
Use a pizza peel to move your pizza to a cutting board, then put away the rimless baking sheet.
Cut the pizza into wedges using a knife or pizza cutter, then top the pizza with basil.
2. Vegan White Pizza Recipe With Oyster Mushrooms and Aubergine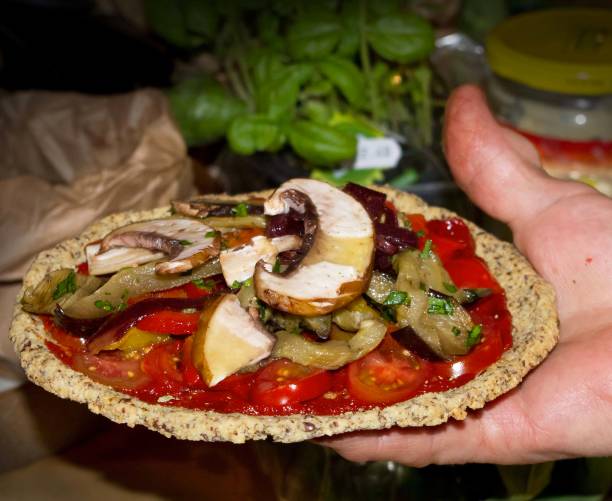 Ingredients
1 teaspoon yeast or baking soda
310 g self-rising flour
200 ml warm water
One teaspoon sugar
Toppings
1 can of crushed tomatoes or tomato puree
Half a cup of cherry tomatoes
1 tablespoon black bean sauce
3 tablespoons tomato puree
100 g oyster mushrooms
Salt and pepper to taste
2 tablespoons olive oil
5-6 pitted black olives
150 g fresh pineapple
1 medium aubergine
1 medium red onion
Dried basil
Instructions
Stir your sugar and yeast in warm water.
Knead your flour with the above mixture to form a risen dough.
Roll out the dough on a surface dusted with flour. Ensure it is a little bigger than the size of the pizza tray.
Loosely wrap the flatbread around the rolling pin before moving it to the tray.
Use a towel to cover the dough for about 20 minutes.
Set the oven to 180 degrees Celsius or 350 Fahrenheit.
Slice the aubergine into 5 mm-thick pieces while waiting.
Mix the sliced aubergines thoroughly with black bean sauce.
Add two teaspoons of virgin olive oil to a frying pan.
Add the aubergines and stir to help them to absorb the oil.
Turn the food occasionally while cooking on medium heat until it is halfway done.
Be cautious not to burn them as they may scorch quickly. Place aside after removing from the pan.
Chop and add tomatoes to the same pan. In the meantime, crush the tomatoes into a semi-puree while allowing the mixture to heat for 2 to 3 minutes.
The bread would have risen by now. So, pre-cook the dough in the oven for 12-minutes.
While waiting, chop the mushrooms and pineapples into small pieces.
Cut the onion into rings.
Cut the pitted olives in half.
Take the pizza dough out of the oven and place it on a stand.
Apply the pizza sauce on top of the dough.
Add a little dried basil, then arrange the aubergines, pineapple, mushrooms, olives, and red onions.
Add halved cherry tomatoes and some freshly smashed pepper.
Bake in the oven for 20 minutes.
Remove the baked vegan pizza from the oven and slice to the desired numbers.
Serve your steaming hot pizza festooned with basil.
3. Cheeseless Pizza Recipe With Mushrooms and Chickpeas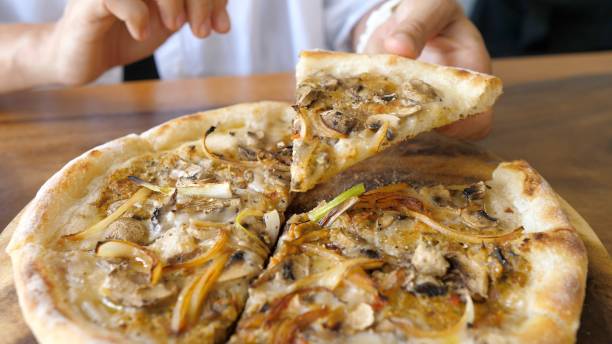 Ingredients
¾ cup Muir Glen Organic fire-roasted tomatoes
6 canned artichoke heart quarters
1 jarred roasted red pepper
8 baby Bella mushrooms
½ cup cooked chickpeas
2 tablespoons olive oil
3 cups spinach, packed
Pre-prepared dough
4 large basil leaves
4 cloves of garlic
½ teaspoon salt
1/3 red onion
Instructions
Preheat the oven to 180 degrees Celsius.
Split the red onion into thin shreds and set it aside.
Mince 4 garlic cloves.
Cut the mushrooms into slices.
Drain and rinse the chickpeas.
Heat 2 tablespoons of olive oil in a big skillet.
Add your best mushrooms for pizza, followed by spinach, chickpeas, garlic, onion, and 1/2 teaspoon kosher salt to the skillet, then stir-fry for approximately 5 minutes until the spinach is wilted.
Dust a pizza peel with semolina flour.
Knead the pizza dough that you already made in advance into a thin crust.
Carefully place the dough onto the pizza peel.
Add a pinch of salt and a thin layer of smashed tomatoes to the dough.
Place the sautéed veggies on top, followed by the red pepper flakes and artichoke hearts.
Transfer the pizza to the oven, and let it bake for 5 to 7 minutes or until the dough browns.
Trim the basil into thin strips.
Take the steaming hot pizza out of the oven and let it cool.
Slice, then garnish with basil before serving.
4. Cheeseless Pizza Recipe with Roasted Veggies
Ingredients
1/2 cup canned marinated artichokes, roughly chopped
2 tablespoons high-quality balsamic vinegar
3 stems of kale, steamed and chopped
1 tablespoon of good quality olive oil
1 pre-made whole wheat soft dough
4 shiitake mushrooms, chopped
1/2 cup pizza sauce of choice
1/4 teaspoon dried oregano
1/2 red bell pepper, sliced
1/4 sweet onion, chopped
1/4 teaspoon dried basil
2 cloves garlic, minced
1/4 teaspoon pepper
Dash of chili flakes.
1/4 teaspoon salt
Instructions
Give your pizza dough 20 minutes to rise at room temperature.
Set the oven to 450 degrees.
Make a rectangle-shaped dough.
Put your dough on a baking sheet.
Bake your dough for 15 minutes.
Warm your olive oil in a pan over low heat.
Add the onions, bell peppers, and garlic and cook for five minutes.
Add the artichokes, kale, and your thinly sliced shiitake mushrooms after 5 minutes, then continue to sauté for an additional 3 to 5 minutes.
Add balsamic vinegar, basil, oregano, salt, and pepper when everything has melted.
Turn off the heat, then take the pizza dough out of the oven.
Spread the tangy tomato sauce over it, and then add your vegetables.
Put the half-cooked pizza back in the oven for five to ten minutes.
Take out your cheeseless pizza once it is ready, slice it, and serve when hot.
5. Cheeseless Pizza with Miso-Caramelized Onions and Shiitake Bacon
Ingredients
(15-ounce) of chopped tomatoes
½ cup sun-dried tomatoes
1 teaspoon dried oregano
½ teaspoon smoked paprika
Kosher salt
For the miso-caramelized onions:
¼ cup olive oil
3 tablespoons yellow miso paste
2 large yellow onions
For the shiitake bacon:
1½ pounds of fresh shiitake mushrooms
2 tablespoons low-sodium soy sauce
1 teaspoon smoked paprika
2 tablespoons olive oil
For assembling the pizzas:
1 tablespoon semolina flour
1 cup all-purpose flour
Instructions
Blend the sun-dried and canned tomatoes, oregano, and paprika until smooth.
Heat the miso-caramelized onions in oil until they shimmer, then add the miso and slowly whisk it into the oil until it starts to dissolve.
Cook for 45 minutes to 1 hour, while stirring periodically, or until the miso is entirely dissolved and the onions are soft, golden, and aromatic.
Preheat the oven to 350 degrees.
Combine the mushrooms, soy sauce, olive oil, and smoked paprika.
Spread the Shiitake mushrooms in a single layer on parchment paper and lightly spray or brush with oil before cooking.
Bake for approximately 45 minutes.
Preheat your oven to 500 degrees Fahrenheit and place two racks in the middle and bottom third.
If you have pizza stones, set one on each rack while the oven is preheating; if not, use big, rimmed baking sheets and turn them upside down.
Dust the surface with a mixture of all-purpose flour, semolina flour, or cornmeal.
Take some pizza dough and roll it into a loose ball with your hands.
Place your dough on the floured board and gently press it into a disk.
Roll the dough flat with a rolling pin until it is round and approximately 14 inches broad.
Make a 1-inch border by folding the dough's edges and softly crimping them with your fingertips.
Gently slip a sizable piece of paper under the formed dough.
Spread 1 cup of your slightly sweet sauce evenly over the top of the dough using an offset spatula. The sauce acts as the best cheese substitute.
Evenly distribute 1 cup of the shiitake bacon and 1 cup of the miso-caramelized onions on top of the tomato sauce.
Add a teaspoon of red pepper flakes and 1 tablespoon of oregano to the mixture, and then brush 1 tablespoon of olive oil on the crimped edges.
Sprinkle a little sea salt on the border.
Transfer the pizza carefully to one of the pre-heated pizza stones or sheet pans.
Bake for 12 minutes until the top is bubbling and the crust is puffed and golden.
Transfer your pizza to a cutting board using a pizza peel.
Cut the pizza into wedges using a knife or a pizza wheel.
Serve while hot and enjoy.
Making Pizza Without Cheese Using a Pizza Stone and Peel
There are two pizza-making instruments you must have for a great pizza. They are not necessary, but they bring out all the rich flavors. For starters, baking the dough on a heated pizza stone produces a chewy inside and a crispy outside.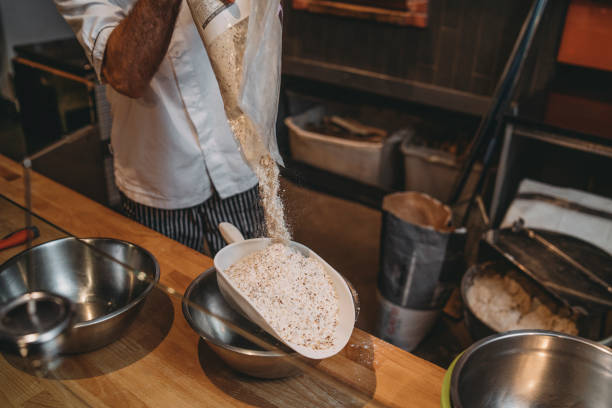 We advise you to use the aluminum peel or super peel to remove the dough from the heated stone to avoid burns.