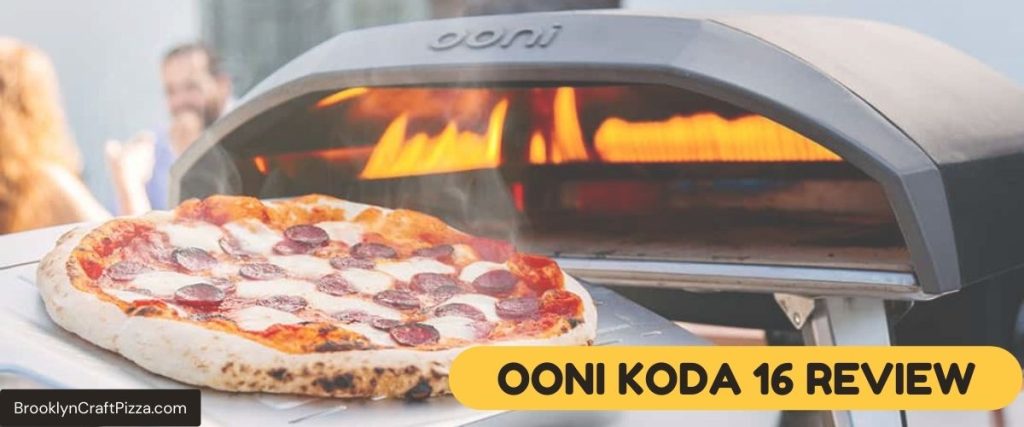 If you're in the market for a new pizza oven, you've probably come across the Ooni Koda 16. This oven has been getting rave reviews, so we decided to put it to the test.
The amazing thing about the Ooni Koda 16 is that I realized how wrong my assumptions were after a few hundred pizzas.
With this lightweight and affordable pizza oven, you can actually make perfect Neapolitan pizza at home in less than 60 seconds!
In this most in-depth review of the Ooni Koda 16, we'll cover everything from assembly and operation to cooking performance.
After reading this guide, you'll know everything you need to know about this popular pizza oven.
We'll also give you a detailed guide on using it so you can get the perfect pizza every time.
So let's get started!
Our Verdict about Ooni Koda 16
The Ooni Koda 16 is the perfect oven for anyone who wants to enjoy authentic stone-baked pizzas at home. This portable gas pizza oven reaches up to 500 degrees Celsius, making it twice as hot as a standard domestic oven. It only takes 15 minutes to heat up and can cook a pizza in just 60 seconds!
Things We Love
This pizza oven has been a great addition to my outdoor kitchen. Set-up and burn-in were easy.
This oven makes pizzas that taste like a gourmet pizza shop! (Don't forget to read & watch the how-to video included)
Call it "The Neapolitan Pizza Machine." Koda 16 is very simple and powerful.
Easy to assemble
Heats up quickly
L-shaped heat source cooks pizza in minutes
Things We don't like
No accessories included, sold separately
No built-in thermometer
A little pricey
Ooni Koda 16 Review: Most In-Depth Review About This Amazing Pizza Oven
This is the Ooni Koda 16 gas-powered outdoor pizza oven. Ooni claims it can reach a temperature of 932 degrees Fahrenheit or 500 degrees celsius and can cook a 16-inch pizza in 60 seconds.
While we are no experts in making pizzas, I have a huge family, and we make a lot of pizzas, but when it comes to cooking in these high-top ovens, there is a learning curve and mistakes were made.
Our first impression with Ooni Koda 16
So the first thing the Ooni Koda 16 comes with the oven itself, the propane hose, and regulator. A match holder in case the igniter doesn't light and a 15-millimeter quarter-right stone baking board you will need to insert yourself.
I like that this is replaceable, as some ovens come with the stone built-in; except for the stone baking board, the oven is ready to go right out of the box.
You simply unfold the legs and hook up your fuel; we're using propane a natural gas conversion. The kit is available.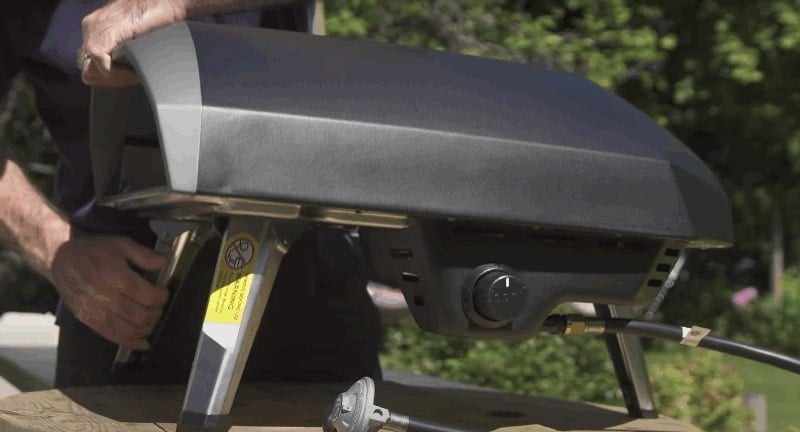 According to the manual, you should inspect the valve connections and regulator, remove any debris and inspect the hose for damage.
Next, we turn on the gas, making sure the oven is off before leading the oven, uni states to check for gas leaks by using a soap and water mixture; use one part soap and one part water and apply it to the fittings.
If there's a leak, you will see this mixture start to bubble; if any leaks are found, tighten the fitting – and if that doesn't fix it, turn off the gas, don't use it, and call customer service To light the oven, make sure the control knob is off.
Next, push in the control knob and slowly turn for three seconds until you hear a click and the burner ignites, then hold for five more seconds after ignition.
If the oven does not ignite, turn off the knob and wait five minutes before retrying.
If the igniter fails, you can use a match.
Wait five minutes for any gas to dissipate, Insert a match into the match, holder, light it and place it next to the burner, then follow the standard procedure.
Read more: 14 Best Propane Pizza Ovens In 2022
Ooni Koda 16 Review: Overview
Looking for a way to enjoy truly authentic stone-baked pizza? Look no further than the Ooni Koda 16 Portable Gas Pizza Oven.
This oven reaches up to 500°C, making it perfect for cooking up delicious pizzas in just 60 seconds.
The included tripod allows you to set it up practically anywhere, making it the ideal addition to any backyard BBQ or party.
The Ooni Koda 16 Gas Pizza Oven is the perfect addition to any outdoor kitchen. Its easy-to-use design is ready to go right out of the box!
Unfold the legs, insert the pizza stone baking board and connect it to a gas tank, and you're ready to start cooking your favorite pizzas.
With its instant gas ignition, you'll be cooking pizzas in no time! But that's not all the Ooni Koda 16 can do. You can also roast meat, fish, or vegetables with it.
Just combine it with one of the Ooni cast iron cooking accessories, and you've got yourself a versatile outdoor oven.
So whether you're hosting a big party or just making dinner for the family, the Ooni Koda 16 Gas Pizza Oven is sure to be a hit!
The Ooni Koda 16 Gas Pizza Oven is the perfect addition to your outdoor kitchen. This ultra-efficient oven will let you cook delicious pizzas at the turn of a dial, using gas instead of charcoal for an extraordinary cooking experience.
The powder-coated carbon steel shell offers incredible heat retention, ensuring that your pizza stays crispy and delicious from start to finish.
Deep Dive Into Its Features You Need To Know
Ooni Koda 16 is the newest member of the Ooni pellet grill family. It has all the features of the original Ooni Koda but with a few added extras.
This Ooni Koda 16 review will dive into those features and consider how well they perform.
Whether you're already familiar with Ooni grills or are just considering purchasing your first, this post should provide everything you need to know about the Koda 16. So let's get started!
Pizza Size Choices
The great thing about the 16 is that if you decide to cook either 10 inches, 12 inches, 14 inches or up to 16-inch pizza, you're not limited by the size, and if you do prefer cooking bigger pizza, it just gives you more options of pizza size.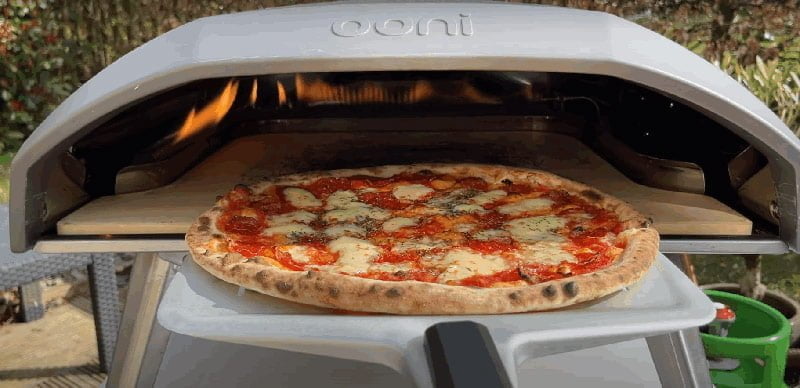 However, making 15-inch pizza for me is a challenge. I am not good at stretching, and I have to have some assistance from my mini pizza roller to get the stretch to that size.
Without that roller, I wouldn't, at this stage in my pizza cooking journey, be able to make a decent 15-inch pizza.
Brightness
There is a technique to use without messing up your pizza crusts, I'm particularly fond of using this oven because it's so bright inside because of all the flames on the l-shaped burner.
It's easy to see your pizza being cooked at the back, and it just makes it easier to check on your crust cook, which is quite hard to do when you've got a dark oven that doesn't light up the pizza, but this one it lights.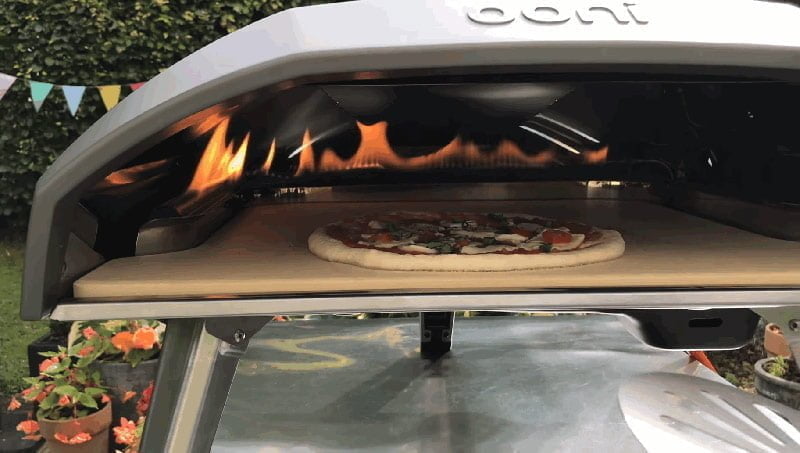 It up it's really good, and when I'm cooking, I sizzle pan dishes as well nice to see it all lit up in there and see what's going on
L-shaped burner benefits
Talking about the l-shaped flame burner, I thought it would lead to me burning a lot more of my pizza when I bought it, but I was wrong because keeping an eye on one side of the crust and the back simultaneously is no different.
You're just checking your crust, and it makes it faster to cook with. After all, my testing and pizzas I've cooked with it so far it hasn't made it harder for me if I am Struggling with the flames.
For any reason, I either need to turn it down or make a smaller pizza in it.
So keep your eyes focused on the left and the back of the crust, and you'll be fine and rotate every 10 to 20 seconds. Whatever's your style, it just cooks—your pizza quicker.
Full or Low Flame
I cook this oven on full flame, which suits my cooking style. However, this flame level is a personal thing. There's no right or wrong; it's better to cook on a lower flame.
If you want to achieve a crispy crust, if you want a fast 60-second cook, push it to the full flame; either way, it's a personal choice, and if you are new to pizza cooking, I'd recommend making smaller pizza on a low flame and build up flame size, and pizza size as your skills develop and once you've got to know your oven better.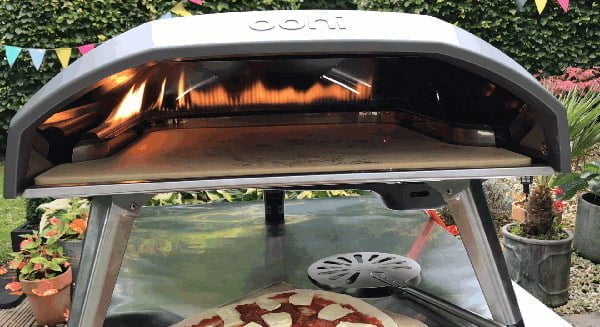 There's a big difference between the low flame cook and the high flame cook, in that it does affect the speed of the pizza cook, so either way, cooking on high or low flame, there's no right or wrong.
And I find this oven cooks well using both I've tried both and I think you've got to be a bit more vigilant when you've got the oven on full flame because it is more accessible to over crisp your crusts
Stone Temperature
It's okay for the stone to be cooler away from the flames as long as it's 430 degrees centigrade at the center of your pizza cook.
It'll pick up all the higher and the lower heats of the stone, giving you an even cook; as you rotate it and look at the pizza bases I've had, I think that's done it very well.
The colder parts of the stone when you rotate it picks up the heat of the warmer parts of the stone.
And therefore, in the end, you'll get an even cook, with the wood fire ovens, you do have a door and that brings the heat forward to the front of the stone. Because they've pulled the gas burner up to the side.
It pulls the heat to the front of the oven, albeit on the left side, but it's still more heat. Coming towards the front of the oven
Portable
Being able to carry a 16-inch pizza oven around that's portable; you can take it anywhere. You want, I think, that's pretty amazing, carrying it without the pizza stone.
It's much lighter. It's still heavier than the Ooni Koda 12.
However, it is portable, and you can carry it around. Take it away, move it around your garden backyard, and that's a real bonus for a pizza oven.
This big that cooks big pizza, and it's also portable, makes it very Versatile for my needs, so yeah, another thing that I've become very fond of with this pizza oven.
Pizza Stone Shape
I prefer the shape of the 12-inch pizza stone because it's handy for burning off debris because you can turn it over and turn it closer to the flame.

With this stone, you can't. You can only turn it over other than that. It's not been an issue for me, and it's still relatively clean after a lot of pizza cooking.
Ooni Koda 16 Price
The Ooni Koda 16 Pizza oven costs $599 and can be found on Amazon or its official website.
The main difference between this model compared to its smaller counterpart, the 12-inch version, which sells for only $399, is that there's room enough on offer here – 18 inches big-to cook pizza skins without worrying about burning them!
You'll also need a peel worth up to 40 bucks if you want one, too, but we think it's well worth investing in an extra size slice of wood when cooking your favorite foodstuff into perfection every time because nothing feels better than pulling off those slides right?
Warranty and Guarrantee
The 60-day great pizza guarantee means you can send back an Ooni Koda 16 if your pizza isn't up to scratch and get all of the money refunded.
I had no need for this; however as my first pie came out amazing!
In addition, they offer 3 years worth of warranty on their products which is great considering how quickly newer models were coming onto shelves when we started looking at them three years ago.
What will be even better once more brands start offering these types deals?
How to get started with Ooni Koda 16 at home?
Now that we have taken an in-depth look at the features and benefits of this incredible product, it's time to give some tips on how you can get started using it in your own home!
The great thing about the Ooni Koda 16 is that it's so versatile – whether you're a beginner or a seasoned pro, there's definitely something for everyone here.
1) If you're new to pizza making, we recommend starting with pre-made dough or base mix from your local supermarket.
This will make the process a lot easier and less messy and help you get a feel for working with the Ooni Koda 16.
2) Once you've got your dough or base mix, you can start prepping your toppings.
Again, if you're new to this process, we recommend keeping it simple with just some cheese and tomato sauce.
Once you've got the hang of things, you can start experimenting with different combinations.
3) Preheat your Ooni Koda 16 for 20-30 minutes before cooking, using either wood or charcoal as fuel.
We recommend using a pizza stone inside the oven to help evenly distribute the heat for best results.
4) When it comes to cooking the pizza itself, you can try a few different methods. We recommend sliding the pizza onto the stone and then into the oven if you're using a pizza stone.
Alternatively, you can cook the pizza directly on the oven floor – be sure to rotate it regularly to ensure even cooking.
5) Once your pizza is cooked, slide it out of the Ooni Koda 16 and enjoy!
As you can see, there's not much to it. With a bit of practice, you'll be churning out perfect pizzas in no time at all.
So there we have it – our in-depth review of the Ooni Koda 16 Pizza Oven. We hope that this has given you a better understanding of what this incredible product has to offer and that you're now feeling confident enough to start experimenting with it in your own home.
Remember, practice makes perfect – so don't be afraid to experiment with different doughs, toppings, and cooking methods. With a little trial and error, you'll soon be churning out delicious pizzas that will impress your family and friends.
Ooni Koda 16 vs wood-fired ovens
If you're in the market for a pizza oven, you might wonder whether the Ooni Koda 16 is the right choice.
After all, there are many different options out there, and it can be hard to know which one is best suited to your needs.
In this section, we're going to pit the Ooni Koda 16 against traditional wood-fired ovens to help you make a more informed decision.
1) Cost
When it comes to cost, the Ooni Koda 16 is more affordable than most wood-fired ovens. This is one of the main reasons it's such a popular choice amongst home cooks.
2) Size
The Ooni Koda 16 is also a lot smaller and more compact than most wood-fired ovens, making it more suitable for those with limited space.
3) Weight
As the Ooni Koda 16 is made from stainless steel, it's lighter than its brick counterparts. This makes it much easier to move around, so you can take it wherever you go.
4) Ease of use
The Ooni Koda 16 definitely has the edge over wood-fired ovens when it comes to ease of use. There's no need for fiddly temperature controls or stoking the fire – simply turn it on and start cooking.
5) Cooking time
One of the main benefits of the Ooni Koda 16 is that it preheats a lot faster than most wood-fired ovens. This means that you can start cooking your pizza a lot sooner and have it ready to eat in no time.
So there you have it – a comparison of the Ooni Koda 16 and traditional wood-fired pizza ovens.
As you can see, there are a lot of benefits to choosing the Ooni Koda 16, making it the perfect choice for those who want to enjoy delicious pizzas without breaking the bank.
Ooni Koda 16 Review In Summary: Is It Worth It?
The Ooni Koda 16 pizza oven has all the limitations of a small portable kitchen appliance, but it makes fantastic Neapolitan pizzas.
And this is what matters most! It bakes perfectly charred crusts, soft and fluffy insides in 60 seconds or less–and it's easy to use too; spacious enough for two people at once (though you'll want plenty of seating), heats up fast even when fully loaded, so no need wait around on those warm summer days.
It also comes with a 3-year warranty and guarantees your satisfaction, or you get 100% refund. I haven't needed to use any of their services yet, but they'll be there for me without question if anything goes wrong during this period.
I'm impressed by how well designed these products are from every angle; it's spacious enough to cook many types of food at once (it has 2 racks), easy-grip handle makes transporting a breeze, and the removable top means I can use it as a serving tray. This is one appliance that does it all–and does it well.
Get one now and enjoy fresh, delicious pizzas all summer long!
I highly recommend this product to anyone in the market for a portable oven, especially if you love to cook outdoors.
The Ooni Koda 16 makes amazing pizzas that rival any brick oven pizza joint from start to finish. And at a fraction of the price.
If you're looking for an easy-to-use, great-tasting pizza, look no further than the Ooni Koda 16.
I hope this article on Ooni Koda 16 review will help you make a right decision. Cheers!
Check Latest Price For Ooni Koda 16 on Amazon
If you want to know more about the little version of this Koda 16, check out the article on our site: 
Ooni Koda 12 Review: Is It Worth It? (Our Real Tested)
Further Reading:
Ooni Koda 12 Vs 16: Detailed Comparison Of All Aspects
Roccbox Vs Ooni: Comprehensive Comparison With All Ooni's Models