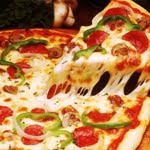 Maria & Sal's Pizzaria
Take Out, Parties, Appetizers, Pizza
After many, many years in the Biglerville and Fayetteville area we are back after 7 years of absence to bring you the food you love! Maria & Sal's is here to continue the same original family traditions we started as Mamma's Pizza. We are proud of the food we prepare and we are committed to serving you the freshest and finest Italian foods. Satisfaction is guaranteed.
Some of your menu items include:
*Italian Pasta Dinners
*Specialty Pizzas
*Calzone
*Stromboli
*Appetizers
*Salads and more
Large parties and meetings are welcome. BYOB.
Stop in today and enjoy.
Contact Information
4550 Lincoln Way E Fayetteville, PA 17222 USA